Congress demands answers on bailout
House panel hears testimony from Treasury and key bailout oversight administrators on government's handling of funds.
Tracking the bailout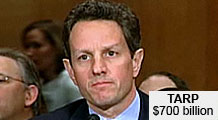 NEW YORK (CNNMoney.com) -- Members of a key congressional committee blasted the Treasury Department Wednesday for its handling of the $700 billion financial rescue plan, saying it lacks appropriate measures to ensure the bailout is working.
At a hearing held by the House Financial Services Committee, committee chairman Barney Frank, D-Mass., accused Treasury of failing to address its obligation to address foreclosures and enforce lending obligations on banks.
"The refusal so far to use the money for that purpose of [foreclosure reduction] has been, I think, a violation of the intent of the bill," said Frank. "What troubled me was when Treasury was asked by the Government Accountability Office, 'What are you doing to ensure banks are lending?,' they appeared to be saying, 'We're not going to try to find that out.' "
The hearing serves as a follow-up to two reports on how Treasury has conducted its bailout program, including the Congressional Oversight Panel's report on the Troubled Asset Relief Program submitted to Congress Wednesday, as well as a GAO report delivered to lawmakers last week. (Read the text of the report here.)
Congressmen on both sides of the aisle used the scathing reports as a launching pad, lambasting Treasury for a general lack of clarity about its strategy as well as a dearth of measures that ensure banks are using the bailout funds for their intended purposes.
Treasury's bailout point man Neel Kashkari - an interim assistant secretary - testified for five hours, facing angry congressmen demanding assurances that taxpayer dollars are being used appropriately.
Furor over AIG
In a heated exchange, lawmakers took issue with Treasury's assurance that taxpayer funds are being put to good use, specifically with regard to executive compensation at companies receiving bailout funds.
A number of committee members pointed to bonuses of around $3 million to $4 million for executives of bailed-out insurer American International Group (AIG, Fortune 500). AIG, fearful of losing top executives, has offered 13 high-ranking employees up to $4 million in retention packages paid over the course of a year, according to the company.
When asked if Treasury believed that level of executive compensation was appropriately curbed according to the stipulations in the bailout bill, Kashkari said that it seemed excessive, but he could not give an assessment of individual bonus levels.
But congressmen said that kind of assessment was specifically mandated in the act. "That's just sloppy management," said Rep. Paul Kanjorski, D-Penn.
Others went further, calling for Kashkari's resignation.
"You can sit there and not come to a decision as to whether or not a three million dollar bonus is not too much?" asked Rep. Donald Manzullo, R-Ill. "If you even have to ask that question whether it's too much, Mr. Kashkari, you are not the man for the job."
Addressing foreclosures
Congressmen also dug into Treasury's representative on the issue of preventing foreclosures for distressed homeowners.
According to the Emergency Economic Stabilization Act, Treasury must address troubled home loan borrowers in the $700 billion bailout. But lawmakers criticized Treasury for abandoning an early plan to buy up toxic mortgage-backed securities, saying the plan would have allowed the government to refinance home loans for millions of Americans.
Treasury later abandoned that initiative, favoring instead capital investments in banks.
Rep. Maxine Waters, D-Calif., demanded to know why Treasury has not adopted a plan put forth by the Federal Deposit Insurance Corp. to use bailout funds to directly help mortgage holders.
"We have followed your lead on buying up toxic mortgages, and you need to tell us why you haven't done that," she said. "You don't have a comprehensive plan to deal with foreclosures [and] until you do, please don't come here and ask for another penny - I will work 24 hours a day to make sure you don't get another dime."
With just $15 billion of the first $350 billion of TARP funds left unallocated, some political analysts expect Treasury Secretary Henry Paulson to ask for the second half of the $700 billion bailout.
In response to Waters, Kashkari said the implementation of the rescue package alone has helped millions of Americans stay in their homes.
"Imagine how many foreclosures we would have if we allowed financial system to collapse," he said.
He added that Treasury "continues to address many foreclosure mitigation programs," arguing reforms of government sponsored mortgage financers Fannie Mae (FNM, Fortune 500) and Freddie Mac (FRE, Fortune 500) could help more homeowners stay in their homes than by using TARP funds to buy up whole loans.
"By buying $700 billion in whole loans, we could buy 3 to 4 million loans," he said. "With Fannie and Freddie, we can now touch almost every loan in America."
But lawmakers were unimpressed with Treasury's response. Frank expected Paulson would fight an uphill battle in an attempt to secure the remainder of the bailout funds. He said he would like to give Treasury the remaining $350 billion, but he would try to add stipulations on the use of those funds.
Questions about accountability
Committee members also unleashed their anger about Treasury's apparent lack of ability to adequately measure the program's success.
Addressing Kashkari, the committee's ranking member Spencer Bachus, R-Ala., said taxpayers have a right to know how their tax dollars are being used.
"The taxpayer has the right to expect that you use the same standard of care as when you were working for Goldman Sachs and answering to your shareholders and investors," Bachus said. "The detailed explanations we've received from the GAO stand in stark contrast to the lack of information we've received from Treasury or financial institutions that received funds from TARP."
In response, Kashkari said Treasury's program has made significant headway in just a short amount of time but needs more time to work.
"Given the severity of the financial crisis, we must build the Office of Financial Stability, design our programs, and execute them - all at the same time," said Kashkari in testimony. "We have made remarkable progress since the president signed the law only 68 days ago."
But the head of the GAO, Acting Comptroller General Gene Dodaro, said the government cannot use time as an excuse, since Treasury has failed to address matters critical to the bailout's success.
"While we recognize that TARP has existed for a short time and that a new program of such magnitude faces many challenges, especially in this current uncertain economic climate, we found that Treasury has yet to address a number of critical issues," he said in testimony.
Those issues, according to Dodaro, include the need for more staff, better management, an improved transition effort and facilities to ensure banks are using bailout funds effectively. The committee also heard testimony from Rep. Jeb Hensarling, R-Texas, a member of a congressional oversight panel, and was scheduled to hear testimony from Harvard law professor Elizabeth Warren, the chairwoman of the panel.
The oversight panel report, released Wednesday, said the Treasury Department must do more to rescue struggling homeowners.
Hensarling refused to sign the panel's report because he said it did not yet make serious recommendations to Treasury to ensure taxpayers' interests are protected.
"This level of federal intervention is unprecedented and each Treasury action is being paid for by a congressionally mandated draw-down on future generations," he said.

Features

These Fortune 100 employers have at least 350 openings each. What are they looking for in a new hire? More

It would be the world's second-biggest economy. See how big companies' sales stack up against GDP over the past decade. More