AIG bailout: $127.7B and counting
The world's largest insurer has borrowed nearly 84% of its allotted government bailout, according to the Federal Reserve.
Tracking the bailout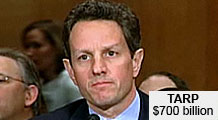 NEW YORK (CNNMoney.com) -- To help troubled insurer American International Group stabilize its finances, the Federal Reserve and Treasury have offered AIG a sizeable lifeline to be paid back over the next five years - and to date, the company has borrowed almost all of it.
The government promised up to $152.5 billion to AIG allocated through four separate programs to alleviate a myriad of AIG's woes. Here's what AIG has borrowed so far:
$39.5 billion of a $60 billion bridge loan designed to help the company stay afloat as it sells off non-core businesses to repay the government.
$28.2 billion of a $30 billion allotment from the New York Federal Reserve to purchase $62.1 billion worth of collateralized debt obligations insured by AIG. The company hopes to buy the significantly devalued - and troublesome for AIG - securities for about 50 cents on the dollar from investors.
$20 billion of a $22.5 billion New York Fed program to purchase residential mortgage-backed securities that AIG invested in.
$40 billion capital investment from the Treasury Department through the Troubled Asset Relief Program.
The bailout total does not include the company's ability to sell up to $20.9 billion of short-term debt to the Fed through the Commercial Paper Funding Facility - a bailout measure designed to help alleviate businesses' near-term financing concerns.
According to Fed data released Monday, AIG has borrowed $127.7 billion, or 84% of the total, and is expected to borrow close to 100% of the loans available as it restructures. The company hopes to transition to a leaner insurer, holding onto its property and casualty businesses and a keeping a majority stake in its foreign life insurance division.
The company has announced arrangements to sell off three such businesses since its bailout deal was restructured in mid-November.
Have you filed for first-time unemployment benefits in the past month? Or have you accepted a significant pay cut - 20%, 30% - in order to start working again? If so, e-mail realstories@cnnmoney.com and tell us your story.

Features

These Fortune 100 employers have at least 350 openings each. What are they looking for in a new hire? More

It would be the world's second-biggest economy. See how big companies' sales stack up against GDP over the past decade. More