Stimulus may spur jobs - abroad
Manufacturers hope Obama's stimulus plan will ensure every taxpayer dollars support American jobs, but economists say a closed-door policy could be risky.
Tracking the bailout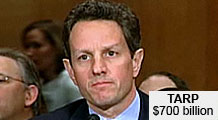 NEW YORK (CNNMoney.com) -- President-elect Barack Obama this week proposed a massive economic stimulus program with a lofty goal amid a deep recession: create 3 million jobs.
How many of those jobs will end up in China, South Korea or other countries?
Obama plans to rev up the nation's job-creation machine by spending hundreds of billions of dollars on a variety of public infrastructure projects, including rebuilding crumbling roads, bridges and schools. That will spur new demand for fabricated building materials, and potential opportunities for out-of-work mill and factory workers to get back on the job.
But many of those mill jobs may not go to American laborers. Many materials for highway construction, namely steel, are produced cheaply in foreign countries, and contractors have an incentive to buy the most efficient and inexpensive materials for their projects.
"Some of the stimulus money is bound to spill over overseas, since we import about 50% of our gross domestic product," said Bernard Baumohl, chief global economist for the Economic Outlook Group. "If the goal is to buy materials from the most efficient producer, and foreign countries produce them at a cheaper cost, U.S. firms engaged in construction will likely buy materials from abroad."
The issue is likely to spark a debate in coming weeks as Congress takes up Obama's recovery package.
Some economists and trade industries want to ensure that stimulus money goes exclusively to American companies. As a result, they support measures that would force contractors in receipt of government funding to buy American products.
"We certainly make the materials here, and it's not too expensive to buy American, so why not make them to do it?" said Peter Morici, professor of economics at the University of Maryland.
The steel industry, which has begun to fight hard for a government-sponsored recovery plan, said the choice is a simple one for lawmakers.
"If you are going to spend money on infrastructure development, unless you buy materials that are made in America, it's not going to have the desired impact, which is putting Americans back to work," said Scott Paul, the executive director for the Alliance for American Manufacturing, a steelworkers and manufacturers advocacy group.
Furthermore, some industry economists say investing in one manufacturing position in turn creates an average of four more American jobs, because of the so-called "multiplier effect." According to Paul, new supplier and other induced labor positions must be created to support each new manufacturing employee.
"When you're spending Americans' taxpayer dollars, you get a bigger bang for your buck when you support American jobs," Paul added.
'Buy American' provisions may backfire
But some economists say the Obama plan should avoid mandating that materials are purchased from American companies. They argue such a move would set a bad precedent that could hurt the national economy in the long run.
"The worst thing countries can do when they have a recession is to start shutting down their borders," said Baumohl. "Any attempt in the legislation that would limit purchasers to buy only from American steel producers rather than from low cost foreign producers could backfire on the U.S."
Baumohl said "buy American" limitations present a very real danger that could make the current recession even worse, triggering a global move toward protectionism that would have great consequences for the future of the U.S. economy.
Previous efforts have misfired. For instance, from 2001 to 2003, the Bush Administration imposed several so-called "safeguard" tariffs on certain steel products from various foreign countries in an attempt to prevent U.S. steel mills from closing.
But, according to Brian Deery, senior director of the Associated General Contractors of America's transportation division, foreign steelmakers found other markets during that span, namely China and Middle Eastern countries. As a result, when U.S. demand for steel heated up again in 2004, steel prices skyrocketed by 48% in a year, according to the Labor Department.
Infrastructure experts also say such limitations could endanger the economic recovery efforts. They say the economy must be stimulated immediately by supporting so-called "ready-to-shovel" jobs that use readily available materials.
"That would be unfortunate - we need to give taxpayers the most cost-effective projects," said Ken Simonson, chief economist for The Associated General Contractors of America. "Reducing choice may cause delays. For the projects to work, the contractors need to have the right kind of steel on a timely basis."
Simonson said spending exclusively on American manufacturer's products may prove to be all risk and little reward, given the comparatively small amount of jobs that would be created in that sector.
According to Simonson, about a third of the money spent on infrastructure projects directly creates construction jobs, and only one-sixth would grow materials and equipment manufacturers' positions. The other half tends to boost job levels of businesses that indirectly aid the projects, such as shippers other services.

Features

These Fortune 100 employers have at least 350 openings each. What are they looking for in a new hire? More

It would be the world's second-biggest economy. See how big companies' sales stack up against GDP over the past decade. More