Obama rescue 101: Where it stands
President-elect's plan to revive the economy is taking shape. Here's what we know so far.
Tracking the bailout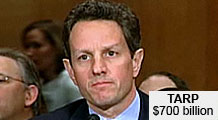 NEW YORK (CNNMoney.com) -- As lawmakers head into the second week of debate over President-elect Barack Obama's proposed economic stimulus plan, new details continue to shed light on what promises to be a sprawling and complex piece of legislation in American history.
Though many details are still lacking, the aim of the American Recovery and Reinvestment Plan is clear: rejuvenate the economy and create jobs by spending hundreds of billions of dollars on infrastructure, state budget relief, safety nets for the needy and tax cuts.
A recent analysis by Obama economic advisers Christina Romer and Jared Bernstein suggested that the proposed plan could save or create 3 million to 4 million jobs by the end of 2010.
Obama has not publicly put a price tag on his overall stimulus plan, but his advisers and economists have said they expect it to cost somewhere between $775 billion and $800 billion. With an expected deficit of $1.2 trillion in 2009, another huge spending effort has scared some lawmakers. Many others say the country must spend its way out of its current economic recession.
To promote his ambitious initiative, Obama has appeared on talk shows, met with members of Congress and made speeches. He has asked for bipartisan support for the measure, and analysts say he may achieve it after mixing in a substantial tax cut plan.
The plan proposes four main categories of measures: Investment in infrastructure, funds to cash-strapped states, expansion of safety net programs to protect the vulnerable, and tax cuts.
Infrastructure: The job creation machine
A key aspect to the the stimulus plan is investment in the nation's infrastructure, which Obama expects to help create between 3 million and 4 million jobs.
Construction projects: Fund the rebuilding of crumbling roads and bridges. Obama wants to rebuild schools and modernize classrooms, labs and libraries.
Renewable energy: Double production of alternative energy in the next three years by modernizing 75% of federal buildings, investing in solar panels and wind turbines and by making cars more fuel-efficient. Obama also wants to modernize the nation's electrical grid with a new, cost-efficient "smart" grid that can deliver electricity from clean, alternative energy sources.
Broadband: Expand broadband Internet lines across rural and urban areas of America.
Health care records: Modernize the health care system by computerizing all of the nations' medical records in the next five years.
Science, research and technology: Invest in scientific innovation to create new industries, new jobs and medical breakthroughs.
State relief: Funding for budget shortfalls
As states face budget shortfalls, Obama's plan seeks to help states pay for Medicaid and unemployment benefits.
State fiscal relief will be allocated to prevent increases in state and local taxes, provided they use the money to maintain essential services like police, fire, education, and health care.
Safety net: Helping the most vulnerable
Obama proposes temporary programs to protect those most vulnerable to the effects of the recession.
Federal aid will go to temporary increases in food stamp spending, extensions and expansions of unemployment insurance, as well as health care coverage for unemployed.
Tax cuts: Breaks for businesses and the middle-class
The president-elect will propose roughly $300 billion in tax cuts for individuals and businesses, adding up to about 40% of the total stimulus plan.
Middle-class tax cut: An estimated 95% of low-income and middle-class families will receive a refundable tax cut equal to $500 a year for individuals and $1,000 for couples. The credit would essentially be a payroll tax credit, with companies able to reduce the tax they withhold from employees' paychecks.
Small business write-offs: Obama would increase the amount of expenses small businesses can write off to $250,000 in 2009 and 2010 from the current $125,000 level.
Tax cuts for companies suffering losses: He would extend the so-called net-operating loss carryback to five years from two years. For businesses that book losses in 2008 and 2009, the provision allows companies to apply their losses to past and future tax bills so that they can get money back on taxes they've already paid or would otherwise have to pay.
How do you think Barack Obama's presidency will affect you and your wallet? What can he do to help you - and others - in these trying economic times? E-mail us at realstories@cnnmoney.com, and your thoughts could be part of an upcoming story.

Features

These Fortune 100 employers have at least 350 openings each. What are they looking for in a new hire? More

It would be the world's second-biggest economy. See how big companies' sales stack up against GDP over the past decade. More