Treasury: $10B more to B of A
Bank of America gets $10 billion in TARP funds that were originally meant for Merrill Lynch. Treasury invests an additional $4.8 billion in other banks.
Tracking the bailout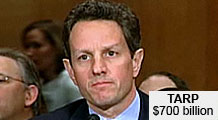 NEW YORK (CNNMoney.com) -- The Treasury Department said Tuesday it recently invested $14.8 billion in another 43 banks, $10 billion of which went to Bank of America, the nation's largest bank.
Under the $700 billion Troubled Asset Relief Program, Treasury has allocated $250 billion for capital investments in banks.
Treasury lends funds to banks in exchange for preferred shares, warrants, and high-paying dividends. The aim: to encourage strapped-for-cash financial institutions to lend more money and provide much-needed liquidity in the financial markets.
As of Tuesday, the government has injected $192.3 billion into 257 banks.
The $10 billion that went to Bank of America in the latest round of capital injections was previously allotted to investment bank Merrill Lynch, which Bank of America purchased on Jan. 1. Treasury said it delayed delivering the funds to BofA until the merger with Merrill was completed. Tuesday's was the first round of capital injections since the merger.
Bank of America (BAC, Fortune 500) previously received a $15 billion investment from Treasury on Oct. 28, as part of the first round of capital injections that went to eight of the largest U.S. banks. With the $10 billion it received Tuesday, Bank of America matches the $25 billion also received by Wells Fargo (WFC, Fortune 500) and JPMorgan Chase (JPM, Fortune 500). Citigroup (C, Fortune 500) received $45 billion after an initial $25 billion investment and a $20 billion emergency loan under a different division of TARP.
Some critics object to the biggest banks receiving the largest sums of money. CEOs from smaller banks and organizations representing small bank managers testified before the House Financial Services Committee Tuesday, arguing that smaller banks are in greater need of investment from the Treasury than larger banks, and have largely been shut out of the TARP allocation process.
Furthermore, some members of Congress and oversight officials have said the plan lacks the ability to determine whether the money lent to banks is being used for its intended purpose.
The capital investment plan has received the largest portion of the $700 billion bailout money so far. But it was not part of Treasury's initial strategy, which included buying up droves of toxic mortgage-backed securities. The Treasury soon abandoned its initial bid, saying capital injections served as the best method of restoring the financial markets to normalcy.
Also in the latest round, American Express Corp. (AXP, Fortune 500) received $3.4 billion, which the company announced in December it would eventually get. The credit card company became eligible for TARP funds after it received Federal Reserve approval to become a bank holding company on Nov. 10.
Other banks receiving more than $100 million in TARP investments were Hermitage, Penn.-based F.N.B. Corporation (FNB), Honolulu-based Central Pacific Financial Corp. (CPF), Akron, Ohio-based FirstMerit Corporation (FMER), and privately held New York Private Bank & Trust Corporation.

Features

These Fortune 100 employers have at least 350 openings each. What are they looking for in a new hire? More

It would be the world's second-biggest economy. See how big companies' sales stack up against GDP over the past decade. More