A free assistant for your travel needs
A new online service helps road warriors dodge disaster.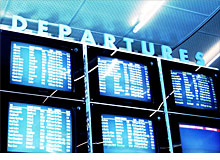 (Fortune Small Business) -- Travel rarely works out as planned. That's the idea behind TripChill, a free Web-based travel assistant that monitors your itinerary before and during a trip, delivering alerts and solutions to your mobile device.
"It's all about putting information in your hand so you can take action," says co-founder Alex Shore, 37. "If a flight is canceled, we give you alternative flights. We can also book hotels and cars and cancel reservations if your plans get altered."
TripChill is jumping into an underserved market.
"There are many scheduling services but very few that handle interrupted trips and screwed-up flights," says Bob Offutt, a senior analyst with PhoCusWright, a travel market research firm based in Sherman, Conn. "For the road warrior, this has a lot of appeal."
The service is off to a good start. So far, TripChill has raised $175,000 in seed capital and is looking to raise $3 million to $5 million more. Shore expects at least $1 million in revenue this year from advertising, commissions and a $10-per-month premium service.

To write a note to the editor about this article,
click here
.



My dream is to launch my own business someday. Now that it's time to choose a major, I'm debating if I should major in entrepreneurial studies or major in engineering to acquire a set of skills first. Is majoring in entrepreneurship a good choice?
More
- Spate, Orange, Calif.

More Small Business

Next Little Thing 2010