Bank bailout: What's in the plan
Treasury Secretary Tim Geithner unveiled Tuesday the eagerly-awaited details of the TARP overhaul. Here's what you need to know.
Tracking the bailout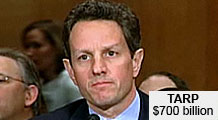 NEW YORK (CNNMoney.com) -- The federal government's bank bailout just got a lot more complicated.
Treasury Secretary Tim Geithner, 143 days after his predecessor unveiled the first financial sector rescue plan, detailed his plan on Tuesday to rescue the financial sector.
In a speech in Washington, Geithner said the government's previous efforts were "inadequate," and the government needed to "fundamentally reshap[e] the government's program to repair the financial system."
The Treasury Department and Federal Reserve took the bold step of committing more than $1 trillion in financing for loan purchases, and unveiled a sweeping reform to previous programs.
Financial stability trust
Aim: Prop up banks' capital position to generate a higher level of lending.
The Treasury, in a coordinated effort with other regulators, unveiled a three-part process to assess and boost bank lending.
'Stress test': The banking sector will undergo a check up to determine whether banks have adequate capital to continue lending. Financial institutions will also be tested to see if they can stay solvent if the downturn turns worse than expected.
Efforts will be made to improve banks' public disclosure of their holdings. Furthermore, banks with assets greater than $100 billion will have to undergo individual assessments.
Capital Assistance Program (CAP): Similar to the existing $250 billion Capital Purchase Program (CPP) under the Troubled Asset Relief Program, Treasury will continue to help banks shore up capital after undergoing a stress test. Like the TARP program, Treasury will take an equity position in the form of preferred shares in banks receiving CAP investments.
Geithner said the CAP is a "buffer" for banks aimed at increasing lending.
Financial Stability Trust: The investments that Treasury makes will then be placed into a separate trust, overseen by fund managers.
Public-private investment fund
Aim: Help banks cleanse their holdings of "toxic" assets to get private lending up and running again.
Cost: Treasury didn't yet say how much it will invest in the program. They hope their investment will spark $500 billion to $1 trillion in private sector purchases of the troubled assets.
The Treasury detailed a brand new program that will coordinate a public and private effort to buy up hard-to-sell assets from banks. The public funds will be combined with private capital to fund the purchases. Private sector buyers will set the price for troubled assets, which were previously hard to value.
Consumer and business lending program
Aim: Boost lending to consumers and business in order to restore the flow of credit and lower borrowing costs.
Cost: Up to $1 trillion.
Expanding upon the previously announced but not yet started Term Asset-Backed Securities Loan Facility (TALF), the Treasury and Fed will provide up to $1 trillion in financing to private investors to buy up securities backed by auto- small business-, credit card- and other consumer-backed and business-backed loans.
Unlike the previously announced TALF program, the new initiative will also purchase commercial mortgage-backed securities. The new plan will only buy up the highest-quality securities to protect taxpayers against losses.
Previously, the Fed dedicated only $200 billion to the program, with $20 billion in backstop support from Treasury's TARP initiative. Treasury will now spend $100 billion to support up to $1 trillion in Fed lending.
Transparency and accountability
Aim: Monitor and make public financial institutions' use of government-provided public funds and ensure taxpayer money isn't wasted.
Geithner unveiled new requirements for banks receiving bailout funds, placing tighter restrictions going forward on those financial institutions.
Accounting for public funds: Banks receiving government funding will be required to show how they are using the money they receive for lending. They must also submit a plan to Treasury detailing how they expect to use bailout money to boost lending.
Those financial institutions will have to provide monthly reports on new lending, which will be placed on a new Web site, financialstability.gov.
Restricting dividends, stock repurchases and acquisitions: Companies in receipt of bailout funding will be forced to cut their dividend to a maximum of 1 cent per quarter until the loan is repaid. Banks cannot repurchase privately held shares, and they cannot buy other healthy banks without Treasury's consent.
Executive pay caps: As President Obama previously outlined, executive pay at some bailed-out banks will be capped. (Full report on the pay curbs.)
Lobbying bans: Treasury will take measures so that its bailout decisions are not influenced by lobbyists.
Public information: Treasury will post details of all capital investments on its Web site, financialstability.gov, within five to 10 days after the transaction.
Affordable housing / Foreclosure prevention
Aim: Stop preventable foreclosures and make housing more affordable by lowering interest rates.
Cost: $50 billion for new foreclosure-prevention effort to be detailed in the next few weeks; $600 billion in previously announced mortgage plan.
Foreclosure prevention: The plan will commit $50 billion to foreclosure prevention, establish loan modification guidelines and provide flexibility to previous loan modification programs.
The plan will require that all recipients of government bailout funding participate in Treasury-outlined foreclosure mitigation plans. Currently, only Citigroup (C, Fortune 500) and Bank of America (BAC, Fortune 500) are forced to do so.
Affordable housing: The initiative will try to drive down mortgage rates through a previously announced $600 billion program to buy Fannie Mae and Freddie Mac mortgage-backed securities and debt.
Small business and community bank lending
Aim: Boost small business and community bank lending and lower borrowing costs for those loans.
The Treasury plans on unveiling details of this plan soon, but it laid out some key elements to the new program, including financing purchases of high-quality Small Business Administration loans, increasing SBA loan guarantees to 90% and reducing their fees.

Features

These Fortune 100 employers have at least 350 openings each. What are they looking for in a new hire? More

It would be the world's second-biggest economy. See how big companies' sales stack up against GDP over the past decade. More