Obama may subsidize mortgage debt
A program would help struggling borrowers before they default. Feds would use government money to make payments more affordable.
Tracking the bailout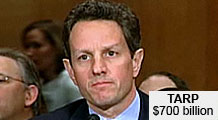 NEW YORK (CNNMoney.com) -- The Obama administration is looking at subsidizing the mortgage payments of struggling borrowers before they default, according to sources familiar with the discussions.
If it comes to pass, the program would blaze a new trail in the federal government's foreclosure prevention initiatives. Until now, the efforts have focused on helping those already behind in their payments through interest-rate reductions and other loan modifications. The Bush administration had not committed any money to helping borrowers.
Obama, however, has pledged to spend at least $50 billion to help borrowers in trouble. Treasury Secretary Tim Geithner said Tuesday that the administration would release its plan within a few weeks. He and Housing Secretary Shaun Donovan have been meeting with banks, housing advocates and trade organizations this week to listen to their foreclosure prevention proposals.
Details remain scarce, but at this point the subsidy plan entails having struggling homeowners take an affordability test and undergo a re-appraisal to see if they are eligible. The subsidy would allow servicers to adjust the loan terms without having the mortgage's investors take a loss, which should make them more open to the loan modification.
Assisting borrowers before they default would help stop the wave of foreclosures, which are estimated to top two million this year. That, in turn, will help stabilize home prices.
"This will help put a floor on home values," said one person familiar with the negotiations.
Obama's plan is also likely to include ramping up the streamlining of modifications for borrowers already in default. Already, several banks and Fannie Mae and Freddie Mac are working with homeowners to make their monthly payments more affordable by reducing interest rates, lengthening loan terms and deferring principal to the end of the loan.
Stocks on Wall Street reversed early losses after reports of the plan began to surface.
Meanwhile, lawmakers and regulators are asking financial institutions to halt foreclosures until Geithner unveils his plan. Rep. Barney Frank, D-Mass., said that 95% of banks should put a temporary moratorium in place.
Foreclosure filings - default notices, auction sale notices and bank repossessions - continued to climb in January, though at a slower pace than the month before, according to RealtyTrac. That was still 18% higher than in January 2008.
Lenders repossessed 66,777 homes in January. A total of 1,081,395 homes have been lost to foreclosure since the housing crisis hit back in August 2007.

Features

These Fortune 100 employers have at least 350 openings each. What are they looking for in a new hire? More

It would be the world's second-biggest economy. See how big companies' sales stack up against GDP over the past decade. More