Bank failures: 13 in 2009
Closures in Nebraska, Florida, Illinois and Oregon bring the number of bank failures to 13 this year as the financial crisis continues to roll.
Map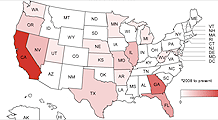 NEW YORK (CNNMoney.com) -- Four banks folded Friday, bringing the total number of banks to fail this year to 13.
Deposits at Sherman County Bank, based in Loup City, Neb., the first bank in the state to fail since 1990, will be taken over by Heritage Bank, based in Wood River, Neb., according to the Federal Deposit Insurance Corporation.
Meanwhile, accounts held by Riverside Bank of the Gulf Coast based in Cape Coral, Fla., will be assumed by TIB Bank based in Naples, Fla., the FDIC said. It is the second bank to fail in Florida this year and the fourth to go under in that state since the economic crisis unfurled.
Corn Belt Bank and Trust Company, based in Pittsfield, Ill., the third bank to fail in the state since January 2008, was also shuttered by state regulators, and its deposits were turned over to The Carlinville National Bank out of Carlinville, Ill.
Pinnacle Bank, Beaverton, Oregon, was closed by the Oregon Division of Finance and Corporate Securities. The FDIC entered into an agreement with Washington Trust Bank, Spokane, Washington, to assume all of the deposits of Pinnacle Bank.
Customers who banked with Sherman County Bank, Riverside, Corn Belt Bank, or Pinnacle Bank will automatically become customers of the new owners, and will retain their account protection under the FDIC, which insures single accounts up to $250,000, and joint accounts up to $500,000, the government agency said.
Due to the Presidents Day holiday on Monday, Sherman County Bank's four branches, Riverside's nine branches, and Corn Belt Bank's two, will reopen on Tuesday as branches of the new deposit holders, the agency said.
Over the three-day weekend, those customers will be able to use checks, ATMs and debit cards as normal. Customers who have taken out loans from a failed bank should continue to make regular payments, the FDIC said.
Sherman County Bank held assets worth about $129.8 million, and held deposits worth about $85.1 million, as of Feb. 12, the FDIC said. Heritage Bank has agreed to purchase about $21.8 million of Sherman County Bank's assets.
Riverside Bank held assets worth about $539 million, and held deposits worth about $424 million, as of December last year, the FDIC said. TIB Bank will not assume $142.6 million worth of brokered deposits held by Riverside Bank, but agreed to buy $125 million of Riverside's assets.
Corn Belt Bank carried assets worth about $271.8 million, with deposits of $234.4 million, according to the agency. Carlinville National will not take on $92 million of Corn Belt's brokered deposits, but would buy $60.7 million of Corn Belt's assets, the FDIC said.
Pinnacle Bank had total assets of approximately $73 million and total deposits of $64 million. In addition to assuming all of the deposits of the failed bank, including those from brokers, Washington Trust Bank agreed to purchase approximately $72 million in assets at a discount of $7.6 million, the FDIC announced late Friday.
Altogether, the bank failures announced Friday will cost the FDIC about $341.6 million.
The unfolding financial crisis continues to take a toll on banks. If banks continue to fail at a rate of at least one per week, on average, then 2009 could see twice as many failures as in 2008. Last year, 25 banks were closed nationwide, which was the highest annual total since 1993, when 42 banks went under.
Economists expect the number of failed banks to continue rising this year, as the financial crisis plays out and the economic outlook remains dark.

Features

These Fortune 100 employers have at least 350 openings each. What are they looking for in a new hire? More

It would be the world's second-biggest economy. See how big companies' sales stack up against GDP over the past decade. More