Regulators shutter 2 more banks
The FDIC said the failures of Heritage Community Bank and Security Savings Bank will cost the Deposit Insurance Fund a combined $100.7 million.
Map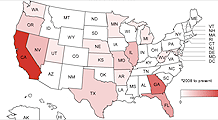 NEW YORK (CNNMoney.com) -- State bank regulators closed two more banks on Friday, the 15th and 16th banks to fail this year, as the worsening recession pulled more regional banks underwater.
The announcement marks the seventh consecutive week of bank failures being announced on a Friday evening.
The Federal Deposit Insurance Corp. said that Security Savings Bank of Henderson, Nevada, had $238.3 million in assets and $175.2 million in deposits as of December 31, 2008. Heritage Community Bank of Glenwood, Illinois, had assets totaling $232.9 and deposits totaling $218.6 million as of December 5, 2008.
Combined, the two bank failures will cost the Deposit Insurance Fund approximately $100.7 million.
Bank of Nevada agreed to assume all of Security Savings Bank's deposits, and purchase approximately $111.3 million of the failed bank's assets. The FDIC will retain the remaining assets, and estimates that the cost to its fund will be $59.1 million.
Heritage was purchased by MB Financial Bank, N.A., of Chicago, Illinois, which agreed to acquire all of the failed bank's deposits and $230.5 million of the failed bank's assets, said the FDIC, which estimated the cost to its fund at $41.6 million.
Customers will be able to access their deposits with debit cards and checks over the weekend. Those who owe loan payments should continue making those payments.
The FDIC fully insures individual accounts up to $250,000 through the end of 2009.
In all of 2008, 25 banks failed and the FDIC's list of troubled banks grew to 252 during the fourth quarter, marking the highest level since 1994.
Bank failures could cost the FDIC fund $65 billion by 2013, the agency said Friday at its board meeting.
In order to prevent larger banks from failing, the government has injected billions of dollars into those institutions.
On Friday, the government said it had taken control of 36% of Citigroup, which had already received $45 billion from the government.

Features

These Fortune 100 employers have at least 350 openings each. What are they looking for in a new hire? More

It would be the world's second-biggest economy. See how big companies' sales stack up against GDP over the past decade. More