Hard times for hardhats
Construction workers like Cynita Davis of Local 325 in New Jersey hope Obama's stimulus plan will succeed, as they queue for jobs that don't exist.
Map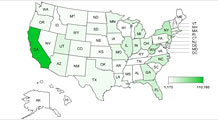 JERSEY CITY, N.J. (CNNMoney.com) -- Cynita Davis, an unemployed construction worker and union member, arrived at the Local 325 office at 6 a.m. and waited for her name to be called.
This has been Davis' ritual for eight months, and she's not alone. As one of 177 names on the union's out-of-work list on Friday, she knew her chances were slim.
But it wasn't always this way. Two years ago, the list rarely exceeded a half-dozen names, according to Paul Roldan, a union business agent.
"You know the economy's bad when you have guys who are 15 years with one company signing the out-of-work list," said Roldan. "New construction has been decimated."
Nowadays, even day labor is hard to come by. As a laborer apprentice, Davis used to get $16 an hour, and was working her way towards an $11 raise as a union laborer. Now, she's facing foreclosure on the $250,000 home that she inherited from her mother four years ago. She used to split the mortgage payments with her sister, but she died of liver cancer at the age of 47.
Davis represents much of what is ailing America. As a builder of schools and residential buildings, she hopes to benefit from President Obama's $787 billion stimulus plan.
"Once the stimulus package is going out and people are able to start back in construction, I'll be able to pay my bills and come out of foreclosure," said Davis.
The Stimulus Plan
Of the more than 3.5 million jobs that Obama hopes to "save or create" through the plan, a disproportionate amount -- 678,000 -- is expected to be in construction, owing to massive investments in infrastructure and education. This is good news for the construction industry, where spending dipped 3.3% in January to its lowest level in more than four years, according to the government.
Economist opinions differ as to the effectiveness of the plan. Some, like Heidi Shierholz, labor market economist for the Economic Policy Institute, believes the plan should succeed on some level, due to its sheer massiveness.
But others are skeptical that the stimulus package would fuel construction-related hiring, considering the inventory of already-built homes sitting empty.
"If you don't have a job, you don't buy a new home, and it doesn't matter what the price is, or the interest rate," said Rich Yamarone, director of economic research at Argus Research.
Grim Market in Jersey City
This is especially apparent in Jersey City. This gritty town was showing signs of improvement in the years before the economy imploded.
Residential construction boomed in the city due to its proximity to Wall Street, with luxury apartment buildings beginning to dominate the industrial areas that had epitomized the western shores of the Hudson River.
Even Donald Trump got in on the action, building his 55-story Trump Plaza, the state's tallest residential tower.
The $300 million building was completed last summer and 82% of its 444 luxury units have been sold, according to Dean Geibel of Metro Homes LLC, who co-owns the building through a partnership with Trump.
But those figures tell only half the story. The original plan called for two towers, not one. Construction on the second tower has been halted because of the recession, said Geibel. Nine months after the completion of the first tower, a grass-covered mound of dirt dominates the lot where the twin is supposed to stand.
"It's going to be built at some point, but you can't even get financing for a condominium project right now," said Geibel. "I'm waiting for the market to start to turn, so we can be confident that the second building will be successful."
The laborers at Local 325 said that Trump Plaza is one of many construction projects that have dried up, forcing them to collect unemployment as they show up at the union office every morning, hoping to find work.
Geibel sees his stalled project as a symptom, rather than a culprit, of economic malaise.
"How could you possible pin this on one building?" said Geibel. "No one's immune. You're looking at the goliaths of business going down."
Meanwhile, Brian Benitez, a laborer at Local 325 and a father of four, hasn't worked in eight months.
"I just hope [the stimulus plan] works," said Benitez, as he left the union office to take his children to school. "I need it to work. Regardless, I still got to come here. It's all I got. I ain't got nothing else."
Of the 177 laborers on the out-of-work list last Friday, no one was called.
Have you found a job recently? We want to hear from you. Send us an email and attach a photo. Tell us where you got hired and how you landed the job and you could be profiled in an upcoming story on CNNMoney.com.

Features

These Fortune 100 employers have at least 350 openings each. What are they looking for in a new hire? More

It would be the world's second-biggest economy. See how big companies' sales stack up against GDP over the past decade. More