Private-sector payrolls lose 697,000 jobs
ADP shows far more cuts than expected. Outplacement firm says job cut announcement ease from 7-year high.
Map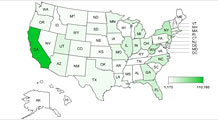 NEW YORK (CNNMoney.com) -- The private sector lost nearly 700,000 jobs in February, according to a report from payroll-processing company Automatic Data Processing released Wednesday, but a separate report showed that employers announced fewer job cuts last month.
The ADP report, which is calculated on payroll data, said the private sector eliminated 697,000 jobs on a seasonally adjusted basis in February. That's an increase of 83,000 job cuts, or 11%, from a revised total of 614,000 job cuts reported in January.
Economists were expecting a loss of 630,000 private sector jobs, according to a survey conducted by Briefing.com.
"We probably still have a few million jobs to lose here by the end of the year," said ADP spokesman Joel Prakken in a conference call with reporters.
He added that the unemployment rate, which stands at 7.6%, could rise above 8% a year from now. And by the middle of 2010, it could top 9%, according to Prakken.
Prakken said the unemployment rate could have exceeded 10% by year's end if not for the government's economic stimulus efforts. Still, he expects "gruesome employment numbers" for the next several months.
But a separate employment report suggested that the worst may be over for the nation's strained job market.
Outplacement firm Challenger, Gray & Christmas Inc. reported that the number of planned job cuts announced in February fell for the first time since December.
"The decline in job cuts last month offers some hope that January was the peak and we will now see layoffs begin to fall or at least stabilize," John Challenger, chief executive officer of Challenger, Gray & Christmas, said in a statement. "Hopefully we have seen the last instance of monthly job cuts in excess of 200,000," he said.
Job cut announcements by U.S. employers totaled 186,350 in February, down 23% from January's 241,749 cuts, which was a seven-year high according to Challenger.
But not all the news was good. The February total was still 158% higher than the 72,091 job cuts announced in the same month a year ago. After just two months, employers have already announced 428,099 job cuts in 2009. That is 191% higher than the 147,077 cuts announced in the first two months of last year.
The auto sector was hit the hardest, Challenger said. Boosted in large part by layoffs at General Motors, 61,288 job cuts were announced, or about one-third of the monthly total.
Of the 25 industry categories that the Challenger report tracks, 11 reported higher job cuts in February compared to the previous month. Ten industries announced hiring plans, led by entertainment, financial and energy.
The reports set the tone for the government's monthly jobs report due Friday. The Labor Department report is expected to show that the economy shed 650,000 jobs in February, more than the 598,000 reported for January, according to a consensus estimate of economists complied by Briefing.com. The unemployment rate is forecasted to rise to 7.9% from 7.6%.

Got a question about jobs or unemployment? We want to hear from you. Send us an email and a pictureand your question could be answered in an upcoming story on CNNMoney.com.

Features

These Fortune 100 employers have at least 350 openings each. What are they looking for in a new hire? More

It would be the world's second-biggest economy. See how big companies' sales stack up against GDP over the past decade. More