One team, two offices: Israel and Palestine
While Gaza burns, one small company brings software engineers together.
Photos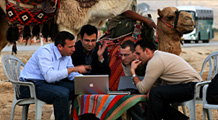 (Fortune Small Business) -- To the untrained eye, it seemed like just another company picnic in the woods.
The participants wore black T-shirts emblazoned with the logo of their high-tech startup. Being outside on this warm November afternoon was a relief after a morning of presentations at a nearby hotel. They didn't mind the cheesy team-building games: standing in a circle and holding hands while passing a hula hoop around; helping one another walk across a tightrope two feet above the ground. It was worth it to sit in the shade of the pine trees and chat about their families and the upcoming product launch.
Try as they might to appear normal, the employees of Global Hosted Operating System (G.ho.st for short) are anything but. They are Israelis and Palestinians living and working on opposite sides of the West Bank barrier. Israeli CEO Zvi Schreiber founded G.ho.st but has never been allowed to visit its headquarters in the West Bank. The off-site gathering in the Jerusalem Forest was the first time all 35 employees had met face-to-face. A few weeks later, they had to cope with renewed fighting between their peoples in Gaza - on top of a legal row with the mighty Microsoft (MSFT, Fortune 500).
Schreiber, 39, is no stranger to working across national boundaries. He was born and educated in the U.K., where he worked as a technology consultant. His first two tech startups, both based in Jerusalem, were sold to U.S. companies: An e-commerce play called Tradeum went to VerticalNet in 2000 for $500 million, and his enterprise-software firm, Unicorn Solutions, was sold to IBM (IBM, Fortune 500) in 2006 for an undisclosed sum.
Schreiber came up with the idea for G.ho.st after watching his daughter laboriously e-mail files to herself. He figured there had to be a better way to access personal documents from multiple computers. G.ho.st's product is a virtual desktop for Web-based applications. Users get 5GB of free storage and can access their files and applications from any Internet browser.
So why did Schreiber decide to hire Palestinian programmers for G.ho.st?
"I thought, 'Maybe I can combine my business interest with my ambition to do something for peace and to help create jobs for Palestinians,'" he says.
But the entrepreneur also had an economic incentive. Salaries for Palestinian engineers are about one-third the prevailing rate in Israel. Budget-minded startups like G.ho.st can get more work for the same price - especially with the Palestinian unemployment rate at a sky-high 21%. So after pooling some of his money and funds from a few angel investors, Schreiber got to work. (G.ho.st has since raised a total of $4 million, mostly from the Israel branch of U.S. venture capital firm Benchmark Capital.)
Many restaurants, hospitals and other businesses inside Israel have employed Palestinians in the past. But there was no precedent for Schreiber's idea: a cross-border company with its headquarters in Palestinian territory. He wasn't sure where to start, so he did a Google (GOOG, Fortune 500) search for Palestinian software executives.
That led him to Murad Tahboub, 38, who runs an IT-outsourcing firm in Ramallah. Tahboub agreed to lend space in his company's offices and act as an incubator for G.ho.st in exchange for equity in the company. Schreiber offered stock options to all employees, a perk most Palestinians are not familiar with.
Still, finding recruits was no easy task. "Outsourcing to Palestinians has been like carving into stone," Tahboub says. "It can be difficult, and some people are very skeptical of it."
Schreiber plays down any difficulty. "It was the same as launching a startup anywhere else," he says. "We recruit from universities. We buy computers and supplies. The only difference is that I can't go to our main office."
About 30 employees are based in G.ho.st's headquarters, a white brick building in Ramallah. Most are software engineers from nearby universities such as Birzeit and Al-Quds. Schreiber works from his home office in West Jerusalem, just 10 miles from Ramallah. Three other Israeli employees are in the Tel Aviv area. But a 25-foot concrete barrier - which the Israeli government says it built to prevent Palestinian terrorists from carrying out attacks against Israeli civilians - separates the two teams.
Unlike the Gaza Strip, from which Israel withdrew in 2005, the West Bank is a complex patchwork of Israeli and Palestinian territories. Israeli settlements, built both with and without government authorization, dot the landscape. Roads to those settlements, some of which Palestinians are not allowed to drive on, surround Palestinian cities. But the security measures affect both sides. Israel forbids its citizens to enter many Palestinian parts of the West Bank, including Ramallah.
"I'd love to have my room in the office," Schreiber says. "It's kind of odd being the CEO and not visiting my own headquarters, but we've been working productively for two and a half years, and we've overcome these barriers."
Schreiber applies for permits for his Palestinian employees to meet him in Israel about once a month. The permits are relatively easy to get but must be renewed by the Israeli army every three months.
Actually crossing the border is a different story.