Enjoy your forced vacation
In the face of massive layoffs, furlough programs are gaining steam as a way to cut costs without cutting jobs.
Map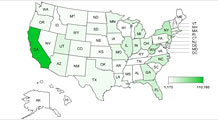 NEW YORK (CNNMoney.com) -- Getting time off from work is usually considered a good thing -- but not when it's unpaid and unexpected.
As companies strive to avoid layoffs, unpaid furloughs have become the cost-cutting strategy du jour. The money-saving method requires workers to take days off without pay, and can last anywhere from a few days to more than a year.
Eleven percent of businesses surveyed have already instituted mandatory furlough programs and another 6% plan to in the next 12 months, according to a recent study by consulting firm Watson Wyatt. And the Bureau of Labor Statistics reports that the number of temporarily laid-off workers hit a 25-year as of December.
"There's been a tremendous amount of layoffs and reductions in forces in the last few months," explained Fred Crandall, senior compensation consultant for Watson Wyatt. "Companies are getting to the point where they are uncomfortable making more cuts."
Unlike previous downturns in which furloughs were largely restricted to the airline, manufacturing and auto industries, a broader range of white collar industries such as media and government are now using mandatory furloughs as a way to cut back without cutting staff.
Furloughs have already been implemented this year at broadcaster Media General (MEG), TV and newspaper company Gannett Corp (GCI, Fortune 500), Eclipse Aviation, airbag maker Autoliv (ALV, Fortune 500) and the New York Jets, among other companies.
And a growing number of states, including California, Georgia and Maryland, have turned to furloughs to cope with potential shortfalls. At least eight states have recently furloughed workers or are considering it, according to the Center on Budget and Policy Priorities.
For businesses, furloughs can address short-term cost issues, without jeopardizing the long-term health of the company. Employers can reduce payroll immediately, and save on the expense of training new hires when business picks up again. "The alternative to the furlough is clearly cutting jobs completely or cutting pay across the board or freezing hiring," said Julie Gebauer, a managing director at Towers Perrin.
But for workers, furloughs mean less work and less pay.
No time for a vacation
While taking some time off from work can provide time to pursue other interests, get additional training or spend more time with family, it can be an unwelcome break at a time when money is tight for most households, and temporary work is hard to come by.
Dan Tiedemann knows first hand how hard that can be. Tiedemann, a Denver-based pilot for United Airlines, has already been furloughed once a few years ago and is worried it will happen again now.
"It was devastating," he said. "I had been there for five or six years, and was established in Denver with my family."
Before being called back after a furlough that lasted a year and a half, Tiedemann says he scrambled to find an intermediary job and ultimately took a 55% to 60% pay cut flying for a vacation charter company during his unpaid leave.
Now, as the airline industry struggles with volatile fuel prices and declining demand, Tiedemann says he is angered by the prospect of being furloughed a second time just a few years later.
"If I get furloughed another time I would resign," he said.
Gebauer of Towers Perrin says we are likely to see more organizations resorting to furloughs going forward "given the seriousness of the economic crisis in front of us and some of the lessons learned from the last recession when companies cut too deeply in terms of layoffs."
Got a question about jobs or unemployment? We want to hear from you. Send us an email and attach a photo and your question could be answered in an upcoming story on CNNMoney.com

Features

These Fortune 100 employers have at least 350 openings each. What are they looking for in a new hire? More

It would be the world's second-biggest economy. See how big companies' sales stack up against GDP over the past decade. More