Tug of war over AIG bonuses
CEO Liddy wants employees making $100K plus in bonuses to return half. Lawmakers still unhappy.
Video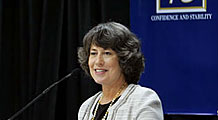 The Fixers
7 people are in charge of rescuing the economy. Here's who they are and how they plan to do it.
Tracking the bailout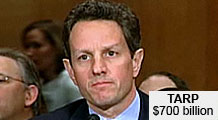 WASHINGTON (CNNMoney.com) -- The controversy surrounding bonuses at American International Group boiled over Wednesday when the company said it asked some employees to give the money back, but lawmakers said they remained troubled about how the bailed out insurer is being managed.
Employees who took home more than $100,000 in bonuses have been asked to return at least half, according to AIG Chief Executive Edward Liddy, who testified before a House Financial Services subcommittee.
Liddy, saying he knew the public's patience is "wearing thin," said some employees have decided on their own to return their entire bonus and that most eventually would do so.
"It was distasteful to make these payments," Liddy said. "This morning, I've asked the employees of AIG Financial Products to step up and do the right thing. Specifically, I've asked those who received retention payments in excess of $100,000 or more to return at least half of those payments."
Liddy addressed also one of the key questions surrounding the controversy over the bonuses: When did officials first learn that AIG was planning them?
According to Liddy, Federal Reserve Chairman Ben Bernanke knew about the payments for three months and Treasury Secretary Tim Geithner found out about them two weeks ago -- a week before Geithner has said he first heard of the bonuses from his staff.
The Treasury Department, however, said Liddy was mistaken.
"Mr. Liddy is incorrect," spokesman Isaac Baker said. "As he told Mr. Liddy, Secretary Geithner first learned the details of the AIG retention payments on March 10, just prior to their conversation."
For his part, Liddy, who took over at AIG in September after the government stepped in, said he knew about the bonuses since October but determined that they could not be legally altered. He also said he believed the retention bonuses at the financial products unit were necessary, so that competition would not take AIG's best minds away.
"I am trying desperately to prevent an uncontrolled collapse of that business," he said. "This is the only way to improve AIG's ability to pay taxpayers back quickly and completely and the only way to avoid a systemic shock to the economy that the U.S. government help was meant to relieve."
Liddy decided in November to not take any bonuses and accept a salary of just $1. He said that the financial products unit has been successful at unwinding the company's derivatives business to $1.6 trillion from $2.7 trillion, and therefore deserving of bonuses. Paying $165 million in bonuses is "a large number, but in the context of $1.6 trillion, I think it's a good trade," he said.
Some lawmakers argued that AIG was fighting to retain the wrong people.
"These are not the people you want to retain -- you need to get people who understand the mistakes and undo them," said committee chairman Barney Frank, D-Mass.
Others said they were furious over what many saw as a lack of transparency in the disclosure of the bonuses to the public.
"Why wasn't this committee informed?" asked subcommittee chairman Paul Kanjorski, D-Pa. "And do you realize that the actions that you take at AIG and took in this precise case not only impacts AIG ... but it may have jeopardized our ability to get a majority of this Congress to support further legislation to provide funds to prevent a recession, depression or meltdown?"
Liddy said there "was no intent to deceive or hide anything."
But most of the anger was directed at the Federal Reserve for not disclosing information about the bonuses, even though Liddy said they knew about them in December.
"If the Federal Reserve Board knew about the particulars of these bonuses and didn't tell us, then they should be called to account, because that calls into question not only their competence but their dedication to democracy," said Rep. Sherman, D-Calif. "They may have deliberately prevented the American people from weighing in on the decision as to whether AIG should have been put into receivership."
It has been a bumpy ride of late for the troubled insurer. The company, first bailed out in September, received yet another bailout on March 2 -- the fourth in less than six months -- making available more than $182 billion.
On March 4, Congress began a week-and-a-half-long battle to obtain the names of banks and other firms around the world -- known as counterparties -- that have benefited from AIG's bailout.
Furor over bonuses
The biggest controversy surrounds bonuses going to the company's senior employees. Public furor erupted over the $165 million in bonuses, 73 of which topped $1 million.
Accordingly, the line to get into the hearing on Wednesday started well before 8 a.m. Included in the fewer than 100 public members that got in were several women from protest group Codepink sitting in the front row, wearing pink shirts that said "Ain't it greed," "Fire AIG," and similar protest statements. Frank warned the audience that hecklers would be arrested.
One of those in attendance was Scott Sommerfield, 58, a landscape architect from Oakland, Calif. In Washington visiting friends, he decided to see Liddy explain the AIG bonuses.
"I just think it's outrageous that a time when so many are making sacrifices that these executives would get these bonuses," said Sommerfield, one of the few in the room wearing blue jeans. "Hopefully they'll be able to keep that money in the Treasury."
Liddy said that he is upset about the bonuses as well.
"We are meeting today at a high point of public anger," he said. "I share that anger."
President Obama said at the White House Wednesday that anger, if channeled correctly, can be an important tool to help fix the problem with troubled financial institutions.
"I don't want to quell that anger -- people are right to be angry, I'm angry," said Obama. "I want to channel our anger in a constructive way. The most important thing is to stabilize the financial system, get credit flowing again, and make sure we change how these businesses operate so they don't put us in situation where when things go bad, tax payers fit the bill."
The bonus controversy prompted New York Attorney General Andrew Cuomo to subpoena the firm for recipients' names.
"AIG's proposal to ask their bonus recipients to voluntarily give back half is simply too little too late," said Cuomo in a statement. "Rather than take half-measures, AIG should immediately turn over the list, which we have subpoenaed, of who got what and when."
Frank also said if AIG does not provide Congress with the names, Congress will subpoena them from the insurer.
Liddy said he intends to obey the New York attorney general's subpoena, though he does not wish to make the names public because he worried that the public outrage over the bonuses would endanger those employees.
Frank said he understood the concern and will talk to law enforcement before taking legal action, but for the time being was "not persuaded."
A rocky six months
AIG's troubles stem from its financial products unit, which sold credit default swaps -- essentially insurance contracts -- on collateralized debt obligations, or CDOs. The value of the CDOs plummeted in 2008, and AIG was forced to post more collateral to back up the swaps.
The company also took sizeable writedowns on its subprime mortgage-backed securities holdings, which fell in value as the housing crisis wore on.
AIG (AIG, Fortune 500) suffered a huge loss in the months leading up to its Sept. 16 bailout, and shares of the company tanked, limiting its ability to raise cash. Credit raters then downgraded AIG, requiring it to post more collateral.
Government officials decided they had to act lest the insurance titan file bankruptcy. At the time, AIG had $1.1 trillion in assets and 74 million clients in 130 countries, so the company's collapse would likely roil the global markets.
Liddy said that AIG has worked hard to sell off many of its assets to stabilize the company, but poor market conditions have slowed that effort. Still, he said that AIG remains committed to paying back the government's loans and creating a strong foundation for the company's core insurance business.
"There is an exit strategy, but it's very market-dependant," Liddy said. "To sell off assets, the market has to behave."
The committee also heard testimony from a number of government officials and insurance experts. Most said that the government's regulation of AIG prior to the company's bailout was insufficient, and AIG has had only limited success stabilizing the company in its current restructuring process.
The panel is set to hold a hearing next week featuring Geithner and Bernanke.

Features

These Fortune 100 employers have at least 350 openings each. What are they looking for in a new hire? More

It would be the world's second-biggest economy. See how big companies' sales stack up against GDP over the past decade. More