After Bonusgate, what next?
The AIG bloodletting let everyone vent. But there's still a financial system to fix. Why Treasury Secretary Tim Geithner's job just got harder.
Video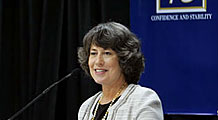 The Fixers
7 people are in charge of rescuing the economy. Here's who they are and how they plan to do it.
Tracking the bailout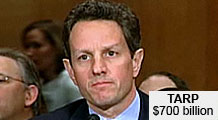 WASHINGTON (CNNMoney.com) -- Treasury Secretary Tim Geithner sat alone at the witness table answering questions and getting an earful from a panel of senators.
Sen. Kent Conrad, D-N.D., chairman of the Senate Budget Committee, cautioned Geithner that Americans were crazy angry about corporate bailouts.
"I have never -- in the 22 years I've been here, I've never seen such anger, with the sense of betrayal, that people in positions of responsibility took advantage of them," said Conrad. "The outrage of people cannot be dismissed."
That was on March 12. It turns out, the next day was when American International Group would award $165 million in bonuses to some 400 employees.
Over the past week, Congress turned the anger over AIG into legislation. The House rushed through a bill to tax bonuses, and the Senate made a similar proposal.
Now, with the Obama administration set on Monday to announce its most significant step yet in trying to rescue the banks, the blowback over the AIG bonuses threatens to sour its relations with Congress, some experts say.
"The notion you're going to get more money out of Congress to stabilize the financial system is a pipe-dream at this point," said Jaret Seiberg, policy analyst at Concept Capital's Washington Research Group. "Politically, it's not possible to approve more cash and get re-elected."
Geithner, who marks his 8th week on the job on Monday, is on the spot. He is already facing what President Obama called the toughest challenges of any Treasury secretary since Alexander Hamilton. A few Republicans have even called for his resignation.
House Minority Leader John Boehner, R-Ohio, said Geithner was on "thin ice," claiming he didn't do enough early on to stop the bonuses. Democrats have been more measured in their criticism, saying last week that they wished Treasury did a better job of communicating with Capitol Hill.
A Treasury spokesman declined to comment on relations with Congress, but pointed out Obama's defense of Geithner and his economic team several times this week -- even on Jay Leno's "The Tonight Show."
"He understands that he's on the hot seat, but I actually think that he is taking the right steps, and we're going to have our economy back on the move," Obama said.
Critical time
The flare-up over AIG bonuses comes at a critical time in Treasury's handling of the financial rescue.
Within the next few days, the department is expected to reveal details of its program to help wipe out toxic assets from the balance sheets of the nation's struggling banks and investment firms. Such a program is key to clearing bad debt and getting the financial markets rolling again.
Geithner has suggested the plan could cost close to $1 trillion. And the Obama administration has placed hundreds of billions in its budget outline as a placeholder for future bailouts.
Most experts believe the administration will likely have to ask Congress for more money again. Right now, Congress will be hard-pressed to cough up more dough for taxpayer financed recovery efforts.
"As of today, it's not possible to ask for more money," said Brian Gardner, an analyst for investment firm Keefe, Bruyette & Woods, who added it could be several months before more bailout money could be made available.
Moreover, Congress is now intensely focused on targeting bonuses at companies that received bailout dollars.
On Friday, new anti-bonus legislation circulated among key House members. And the Senate was also expected to start discussing similar legislation next week.
"The atmosphere is very poisonous right now," said Bert Ely, a financial policy consultant. "I wouldn't want to put something forward, simply because all the flap on the AIG bonuses."
Big agenda
It had already been a rough couple weeks for Geithner and his team.
After surviving an onslaught of criticism during his confirmation hearings for failing to pay some taxes, Geithner has yet to put top deputies in place. Several applicants dropped out while facing heightened scrutiny in the screening process.
"Because they're not there, the Treasury ends up making sloppy mistakes, and that hurts them," Gardner said.
Geithner is also attempting to negotiate a coordinated global effort to recovery.
On March 10, the day he said he first "fully learned" about the AIG bonuses, Geithner was preparing for a tough meeting in London with other finance ministers whose recovery priorities differed from the Obama administration's.
In the midst of all this, Geithner has been trying to nail down specifics of his plan to woo the private sector to buy bad assets from troubled banks and investment firms. The administration has high hopes that it will get a better reception than the last time Geithner broached the subject -- and caused the stock markets to tank.
Now the AIG flap threatens to derail those efforts, even before it's fully understood. It's clear that the Treasury wants to draw on the private sector to work with the government to figure out how much these assets are worth and clear them out.
But private investors, saying that episodes like the legislation attacking the AIG bonuses show that the rules of the game can change at any time, are becoming increasingly skittish of taking taxpayer dollars.
"Everyone is going to think twice about wanting government assistance," said Charles Calomiris, a finance professor at Columbia University's business school. "You know you're going to have to deal with the fact that compensation to your middle managers is going to be micromanaged by [Rep.] Barney Frank, leading a mob with pitchforks."
Geithner's next public date with Congress was supposed to be on Thursday and give him a platform to highlight his ideas for rescuing the system and strengthening regulations.
Instead, Geithner first on Tuesday has to face lawmakers to answer questions about AIG bonuses.
This time he won't be alone. Federal Reserve Chairman Ben Bernanke, who knew about the AIG bonuses for months, will answer tough questions beside him.

Features

These Fortune 100 employers have at least 350 openings each. What are they looking for in a new hire? More

It would be the world's second-biggest economy. See how big companies' sales stack up against GDP over the past decade. More