Bankers: Take your TARP money back
Some banks say the government's stabilization plan is actually weighing them down.
Tracking the bailout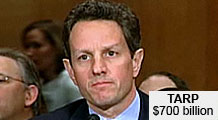 NEW YORK (CNN) -- There's a growing sense among some bankers that Troubled Asset Relief Program known as "TARP" has become toxic. As a result, they want to bail out of the bank bailout program.
"It should be called 'TRAP,' not TARP," said Brian Garrett, chief executive of Bank of the Bay in San Francisco, who is trying to return bailout funding. "Giving it back is harder than getting it."
Garrett and other bank executives complain the Treasury's program to stabilize banks during these turbulent times is actually weighing down their potential for growth.
They're especially concerned the limits on executive compensation - imposed in February, four months after Treasury starting sending out checks - could make it difficult to hold on to star talent who may jump to financial institutions that are not receiving any Government assistance.
That concern is now magnified after the public whipping insurance giant AIG received for granting executive bonuses. No one wants to be the next AIG (AIG, Fortune 500).
"Things have changed since TARP was announced. The rules have changed," said Michael McMullan, CEO of the Bank of Florida, who withdrew his application for TARP funds Thursday. "We're going to need to attract and retain key revenue drivers and great bankers."
"The more restrictions that we are placed under from the Government, the less value we can deliver to our shareholders in the long run," said McMullan.
Iberiabank in Louisiana, California's Bank of Marin, and TCF Financial in Minnesota confirm to CNN Money that they are asking Treasury to take back their TARP funds.
"What these bank managers are saying is - listen, I want the Government out of my backyard, and I just want to give back the TARP, and I want to run my company by myself," said Paul Miller, Financial Services Analyst at FBR Capital.
Goldman Sachs (GS, Fortune 500), Bank of New York/Mellon (BK, Fortune 500), Wells Fargo (WFC, Fortune 500), JP Morgan Chase (JPM, Fortune 500) and Bank of America (BAC, Fortune 500) - all 'mega-banks' that the government forced to take bailout money - say they want to return taxpayer funds "as soon as practical."
But, they're well aware no one will be permitted to return funds before completion of regulatory "stress-tests" of the major banks to determine how they would withstand a severe recession.
"We want to return the TARP money as soon as possible. We feel more bullish about economic prospects broadly, but we recognize we can't repay the money without the approval of the regulators," said Goldman Sachs spokesman Lucas Van Praag.
The "stress-tests" are supposed to be finished next month. But it's likely the Treasury will not permit bankers to return taxpayer money for many more months.
The main purpose of TARP is to stabilize the banking system, to prevent a run on any bank that appears to be in trouble. It has done that much.
If Treasury starts taking money back from healthy banks while the economy is still in trouble the weaker banks may appear to be even weaker and the confidence that TARP brought may suddenly disappear.
"The Government has to maintain confidence throughout the banking sector. These banks are all interconnected," said Miller.
Bankers may not like the Government interfering in their business. But, right now, those who have taken TARP funds have little choice.

Features

These Fortune 100 employers have at least 350 openings each. What are they looking for in a new hire? More

It would be the world's second-biggest economy. See how big companies' sales stack up against GDP over the past decade. More