GM chief out in bailout shakeout
Rick Wagoner forced out of top spot as Obama administration moves to overhaul automaker.
Photos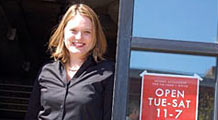 NEW YORK (CNNMoney.com) -- General Motors CEO Rick Wagoner announced his resignation early Monday as the Obama administration gave automakers failing grades for their turnaround efforts.
White House and GM sources had told CNN Sunday that Wagoner would resign as part of the federal government's bailout strategy for the troubled automaker.
"On Friday I was in Washington for a meeting with Administration officials. In the course of that meeting, they requested that I 'step aside' as CEO of GM, and so I have," Wagoner said in a statement posted to the GM Web site.
He is being replaced by GM's president and chief operating officer, Fritz Henderson. Kent Kresa will serve as interim chairman.
"Having worked closely with Fritz for many years, I know that he is the ideal person to lead the company through the completion of our restructuring efforts. His knowledge of the global industry and the company are exceptional, and he has the intellect, energy, and support among GM'ers worldwide to succeed," Wagoner said.
Wagoner's departure comes amid promises from the federal government for a sweeping overhaul of GM (GM, Fortune 500) and Chrysler LLC. The government plans to fund their operations for the next few weeks, but it is holding out the threat of a "structured bankruptcy."
GM will get 60 days and Chrysler 30 days in which to make a final push toward proving they can run viable businesses. If Chrysler succeeds, it will receive a $6 billion loan. In GM's case, the officials would not specify how much money the carmaker might receive.
President Obama is expected later Monday morning to make a formal announcement about his plans for the companies, which have already been given $17.4 billion. (Obama aides flunk GM and Chrysler)
Wagoner, a 32-year company veteran, has been CEO of General Motors since 2000. Prior to becoming CEO, he was chief operating officer and led the company's North American operations. He also served as chief financial officer from 1992 to 1994. ('Wagoner: Almost a superstar CEO')
GM has been hit hard as auto sales have plummeted. Sales have continued to tumble through the early months of this year, falling 40% across the industry and about 50% at GM and Chrysler.
The companies and industry analysts have slashed their sales estimates for the year -- and that in turn has heightened the need for more loans to keep GM and Chrysler afloat.
Last month, the two companies filed reports on their restructuring efforts. GM said it needed up to $16.6 billion more in loans. Chrysler asked for an additional $5 billion, and said it would need the money by the end of March to avoid running out of cash.
The other member of Detroit's Big Three, Ford Motor (F, Fortune 500), has a better cash position than its rivals and has so far not needed federal loans. But Ford has asked for a $9 billion line of credit in case sales continue to be worse than expected or if major suppliers have to halt operations.
Job cuts
As part of the viability plan, GM and Chrysler were to win concessions form bond holders and the UAW.
GM has a big debt load, but negotiations with bond holders have gone slowly.
As for talks with labor unions, last week GM announced that 7,500 factory workers had taken its latest buyout offer. The workers leaving the company represent about 12% of the GM's remaining U.S. hourly work force, leaving it with just under 55,000 factory workers in the United States.
With this latest program, GM has shed about 60,000 hourly U.S. jobs since 2006. GM has offered buyout packages to all of its remaining hourly workers.
Even if the company needs to hire someone new to replace a departed worker, the company will save money under terms of the 2007 labor contract that pays new hires at a lower wage scale and with a far less lucrative benefit package.
-- CNN's Kate Bolduan and John King contributed to this report.

Features

These Fortune 100 employers have at least 350 openings each. What are they looking for in a new hire? More

It would be the world's second-biggest economy. See how big companies' sales stack up against GDP over the past decade. More