Uncle Sam wants to warranty your car
Program aims to calm buyers' fears of bailed out automakers. Experts encouraged, but cautious.
Photos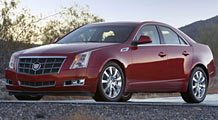 NEW YORK (CNNMoney.com) -- Is it safe to buy a new car from General Motors or Chrysler right now? President Obama says it is and he is putting money up to guarantee it.
In an attempt to persuade wary buyers, the federal government on Monday committed to honoring new warranties, even if the issuing car manufacturer fails.
The New Warrantee Commitment Program, which will be funded with a mix of taxpayer and manufacturer money, will backstop all warranties issued on new GM (GM, Fortune 500) or Chrysler vehicles. The guarantees will be available on warranties issued by the participating American automakers during the period in which the government is overseeing the companies' restructuring.
"Your warranty will be safe. In fact, it will be safer than it's ever been. Because starting today, the United States government will stand behind your warranty," President Obama said on Monday.
The government's program comes at a crucial time for the automakers: Consumers have avoided buying cars and trucks from U.S. auto manufacturers due to fears that the companies won't be around to honor the warranties on their vehicles. Bankruptcy fear was the single biggest reason car shoppers avoided buying GM cars, according to a survey conduced last fall by CNW Market Research.
Accordingly, sales at GM tumbled 53% in February, and Chrysler sales were off 44% compared to a year ago, according to the latest data.
GM has repeatedly said throughout the downturn that "bankruptcy is not an option," largely because it recognizes consumers' fears of ending up with a worthless warranty. But that argument will be hard to hold up now: The Obama administration on Monday rejected both GM and Chrysler's turnaround plans, and the government floated the idea of a "structured bankruptcy" for one of both of the companies if the automakers fail to clear up their extensive liabilities.
Consumer confidence is a critical component in the government's efforts to aid the U.S. auto industry in its restructuring.
How the program will work
The automakers and the government will pool resources to create a new, separate company that will continue to pay the warranty claims even if the manufacturer goes bankrupt or goes out of business.
To make sure the new facility is adequately funded, the automakers and Treasury Department will combine funds to cover 125% of the anticipated warranty costs. GM and Chrysler will pay in 15% of the projected cost to satisfy the anticipated warranty claims, and the Treasury Department will kick in an additional 110%.
If one of the automakers should fail, the company would continue to pay out warranty claims. The government would then transfer obligations to a new warranty services provider.
Treasury said any domestic auto manufacturer is eligible to participate in the program -- that means GM and Chrysler right now. Ford Motor Co. (F, Fortune 500) is eligible for the warranty program, but only if it received government rescue funds. Ford did not return a request for comment.
Is it safer to buy a car now?
Some experts say the government's plan should give buyers confidence that their warranties will be safe in the event of a GM or Chrysler bankruptcy, but whether that will translate into car sales is still very much up in the air.
"Answering the warranty question in a positive way will probably get more people into showrooms," said Jack Nerad, managing editorial director for Kelley Blue Book's KBB.com Web site. "It will help, but it's not the total answer."
Even with a warranty guarantee, the companies' viability remains a concern. One key factor is that the resale value of vehicles when a company goes out of businesses has historically gone down substantially.
"In the best of cases, the value will come down, and in the worst of cases it will plummet," Nerad said.
Even as the Obama administration continued to pledge support for Chrysler and GM, the fact that the companies needed to ask for government help has drastically hurt the public's faith in the companies' long-term viability. That negative stigma may be difficult to overcome.
"Seeking government aid has very much been a double-edged sword," said Nerad. "They almost certainly needed those lifelines, but the lifelines have done nothing to cement confidence in the companies."
"They're, in effect, diminishing demand for their products even as they're seeking to save themselves," he added.

Features

These Fortune 100 employers have at least 350 openings each. What are they looking for in a new hire? More

It would be the world's second-biggest economy. See how big companies' sales stack up against GDP over the past decade. More