Will .Tel take off?
Web registry Telnic is betting that one online phone book can rule them all.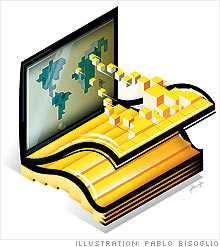 (Fortune Small Business) -- Imagine this: Your business just relocated and you're frustrated. Whenever potential customers hunt for your phone number online, they come up with digits that are out of date.
Now picture this: Consumers have instant access to your contact information through a global directory that you can update in real time. You never have to worry about losing touch. That's what the future will look like if Telnic, a Web registry operator based in London, has anything to say about it.
Telnic is rolling out a new top-level domain service with URLs that end in .tel. These domains are strictly limited to publishing contact information - phone numbers, street and e-mail addresses, Skype handles, home page URLs and the like.
"Basically, .tel makes contacts live," says Khashayar Mahdavi, CEO of Telnic. "Domain registries are the fastest, most robust means of communicating on the Internet, and now we have dedicated them strictly to contact information. You enter the data once, and it's accurate everywhere."
If his idea takes off, Mahdavi hopes that .tel-enabled data will become accessible from a vast range of entry points - not just through standard Web browsers but also on digital devices ranging from cell phones to smart navigation systems.
Attractive as that may sound, deploying the technology will be a challenge. Web users are resistant to domains other than .com. The vast majority of alternatives - like .jobs, .name and .tv - have been spectacular flops.
"Telnic's plan is brilliantly simple," says Rob Enderle, principal analyst at the Enderle Group, a technology consultancy in San Jose. "But the problem is that it goes against existing practice."
For the general public, .tel registration opened March 24 through dozens of Web resellers, including Network Solutions and Dotster. Don't be surprised if someone has already snapped up your favorite domain names: Trademark-holding businesses willing to pay premium prices got first dibs on them four months ago.

To write a note to the editor about this article,
click here
.