Former AIG chief: Bailout not working
Congressional panel probing collapse of AIG hears from Hank Greenberg, who built the company into an insurance powerhouse that later collapsed.
Tracking the bailout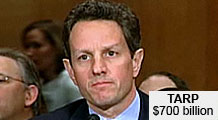 WASHINGTON (CNNMoney.com) -- Former AIG Chief Executive Maurice "Hank" Greenberg, blaming his successors for the mistakes that led to the company's failure, told Congress Thursday that the government's plan to unwind the giant insurer is not working and threatens its ability to pay back the billions it has received in taxpayer funds.
In testimony before a House oversight committee hearing, Greenberg said AIG's problems stem from decisions that came after his 2005 departure.
Greenberg said AIG's overseers must reverse the gears of their current strategy of selling off AIG's assets and maintaining an 80% ownership stake in the company.
"Let me be clear: AIG's business model did not fail -- its management did," said Greenberg. "AIG can recover from its immediate crisis ... but only if both the government and AIG's management change their approach to dealing with its future."
The testimony marked Greenberg's first appearance on Capitol Hill since the government rescued AIG from near collapse in September.
Committee Chairman Edolphus Towns, D-N.Y., said current AIG CEO Edward Liddy will appear before the committee later in April. "Mr. Greenberg and Mr. Liddy may have different views about the federal bailout of the company," Towns said.
Greenberg, 83, ran AIG for nearly four decades until he was ousted in 2005 over an accounting fraud scandal. Greenberg was never charged in a federal case that lead to five convictions.
Under Greenberg's tenure, AIG Financial Products ventured into credit default swaps, insurance-like products sold to banks and others who wanted to backstop their securities and bond purchases. Many of the AIG default swap contracts were sold to insure mortgage-backed securities that have plummeted in value.
Greenberg said his successors should have scaled back their issuance of credit default swap contracts on subprime loans after the company lost its top-notch AAA credit rating. Instead, Greenberg said they ramped up that business and took on unhedged risk, which ultimately brought the company to its knees.
"I think they got greedy and they wrote considerably more business than they should have," Greenberg said.
AIG wrote more credit default swap contracts in the nine months after he left than it had during the last seven years of his tenure, Greenberg claimed.
The loss of AIG's top rating "should have been a signal to quit writing credit default swaps and hedge the book," he added.
Lawmakers prodded him about his involvement in the factors that led up to AIG's demise, leading to some testy exchanges.
When Rep. Elijah Cummings, D-Md., asked Greenberg how many of the credit default swaps sales were sold under his leadership, Greenberg attempted to deflect the question.
"I can't give you the answer sitting here right now," Greenberg said.
"Was it seven billion?" Cummings asked.
"May I finish?" Greenberg said.
"I want you finish but I want you to give me a straight answer," Cummings said.\
Greenberg ultimately said that he did not know the answer, because AIG will not reveal that information.
Congress is still seething over the $182 billion AIG bailout, as well as bonuses AIG (AIG, Fortune 500) paid to employees who worked for the same unit responsible for the company's risky behavior.
When Rep. Carolyn Maloney, D-NY, asked Greenberg what would have happened had the government saved its billions and abandoned AIG to bankruptcy, Greenberg answered, not much.
"I think there would have been a ripple, but it wouldn't have been catastrophic," Greenberg said. "I don't think there would have been disasters, any more than there is right now."
Last October, Greenberg had been scheduled to testify before the House Oversight and Government Reform Committee, the same panel he'll testify before Thursday. But he told the panel he was too sick to appear.
A week later, Greenberg invoked his Fifth Amendment rights when New York Attorney General's Office questioned him about his role in the accounting fraud case.
-- CNNMoney.com staff writer David Goldman contributed to this report.

Features

These Fortune 100 employers have at least 350 openings each. What are they looking for in a new hire? More

It would be the world's second-biggest economy. See how big companies' sales stack up against GDP over the past decade. More