A zeppelin soars over Silicon Valley
How to fly the world's largest airship through the gray skies of recession.
Photos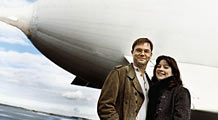 MOUNTAIN VIEW, Calif. (Fortune Small Business) -- When I see the Eureka, the latest and largest of the classic zeppelin airships, floating a thousand feet above the midday traffic on Highway 101, I can barely believe my eyes.
But there it is: a sleek, cream-colored bullet, longer than a 747, soaring over Silicon Valley with an air of anachronistic elegance. And I can't help feeling a tinge of fear as I recall the vintage photo of its most famous predecessor - the Hindenburg - exploding into a fireball after its tail struck a mooring mast.
Since I'm on my way to board the Eureka, I remind myself that this isn't 1937 and this isn't the Hindenburg. Nor is it a mere blimp. Blimps are short-range balloons with fins; zeppelins have metal skeletons designed for long-distance flying. Today's zeppelins, filled with inert helium rather than flammable hydrogen, are far safer than their 1930s forebears.
The Eureka is one of only three functioning zeppelins in the world (the others are in Germany and Japan), and it is owned and operated by a startup called Airship Ventures, located in the San Francisco Bay Area. Whether Airship Ventures can avoid going down in flames, however, is another question.
Brian and Alex Hall, the husband-and-wife team behind the company, had the bad luck to begin operations in October 2008, just as the economy shifted into meltdown mode. Now here they are a few months later with a gas-guzzling airborne behemoth that provides $500-an-hour rides to a consumer market currently doing its own imitation of the Hindenburg.
Despite their perilous situation, the Halls appear as buoyant as the "helium heads," their term for the kind of airship-obsessed pilots and crew they hire. "Starting this business was somewhere between having a baby and building a house," jokes Alex, 36, an astrophysicist who used to run the Chabot Space & Science Center in Oakland. Brian, 43, a successful software entrepreneur, wears the fixed grin of a starry-eyed optimist.
"It comes with its stresses, there's no big pot of cash, and we're working seven days a week," he says. "But if you can ride this out, you can last through anything."
Taking flight
The idea grew from a trip Brian took to Germany in 2006, shortly before the couple got married. After learning that the company that made zeppelins in the 1930s, Deutsche Zeppelin-Reederei, had been reestablished in 2001, he traveled to Friedrichshafen, Germany for a ride in a Zeppelin NT (New Technology). On a return trip he pitched the company's executives on buying a zeppelin fresh from the factory floor. "They made me sweat through the sales presentation," recalls Brian. "Then they just said 'Okay, it's yours.' "
At NASA's gated Moffett Field facility in Mountain View, Calif., where the Eureka most often launches, you drive past aerospace landmarks like a World War II - era fighter plane and a space capsule from the Mercury program. In Building 20, a former officers' quarters, Carol Stedman, our flight attendant, demonstrates how to use a seat belt, a life preserver and an air-sickness bag. "At most you'll feel a slight swaying motion," she says cheerfully.
The hardest part, she warns, is boarding the airship, which requires a person-for-person exchange with the passengers from the previous trip. "It's going to be a cozy, squishy couple of minutes," she says.
Proper weight distribution is one of the most important factors in running a zeppelin tour three times a day - the goal right now, after all, is to keep a giant helium balloon on the ground. So we board the Eureka carefully: As each of the previous passengers exits, a new one takes his or her place. If only a few of the 12 passenger seats have been sold, some of Airship Ventures' 30 full-time employees are "yanked from their desks and used as ballast," Alex says.
The eight passengers on this ride - a typical number - seem to be enough ballast. There's Dick Hughes, a kindly retired accountant born the year the Hindenburg went down. An airship nut, Hughes has been to the zeppelin museum in Friedrichshafen. But he didn't ride in the new German zeppelin, which has a waiting list of almost a year. The Eureka glides noiselessly over his backyard in Palo Alto almost every day. His wife took note of the giant phone number displayed on its side and bought him a $1,000 two-hour ride as a surprise present. Also onboard are Jack Ferguson, a helicopter pilot and consultant, and Bob Glass, a veteran of Apple and Xerox who now runs a coffee shop in Santa Cruz.
The Eureka takes off in near silence, its propellers busily whirling. We've barely strapped on our seat belts when we rise into the sky as if pulled by a magnet. Although the Airbus-like decor of the interior is disappointing, to say the least - 1930s zeppelin gondolas boasted opulent, oak-paneled cabins - the view makes up for it. We all pull out our cameras to snap photos of the distant San Francisco skyline.
As we pass over the nearby Googleplex, close enough to see the Eureka's reflection in the roof-mounted solar panels, the pilots announce that there's a strong wind blowing up the coast. My heart sinks as I am reminded of my first trip on the Eureka, a week ago. Five minutes into that ride the pilots announced that a sudden storm had moved into San Francisco. Eureka turned nimbly around and headed for its hangar. Stedman, the flight attendant, found the bright side. "That's the advantage we have over a blimp," she said. "We can do a U-turn on a hairpin."
Fighting storms
In heavy rain or in winds of more than 20 knots, the Eureka cannot fly. And that is the Halls' greatest problem - especially during San Francisco's rainy season, November through March. The weekend after my first abortive flight, the company sold out a ride down to Long Beach, at $1,500 a ticket. It was canceled because of rain. (Some customers rescheduled; others got a refund.) It's a recurring problem. The Halls say that a third of their flights this past winter had to be rescheduled.
California law requires Airship Ventures to keep customers' deposits in escrow until they actually fly, so poor weather means a large chunk of its revenue can't be used to run the business. (The company is funded to the tune of $8.5 million by eight angel investors led by tech and aerospace guru Esther Dyson.)
The Halls have done everything they can to maximize flying time: They've met with local pilots to discuss Bay Area fog patterns (it's better to fly later in the day, they say), and, when necessary, they fly out of airfields in Oakland and Monterey. They're considering relocating to Los Angeles during the Bay Area's rainy season.
Today the zeppelin's pilots had planned to travel along the coastline to San Francisco, but because of rough winds we sail above Highway 101 instead, at a steady and smooth 40 knots. The ground is close enough that you feel you are spying on people. Hughes asks the pilots if they can make a slight detour to fly over his house, and they happily oblige. Kate Board, 33, the only female zeppelin pilot in the world, and Fritz Gunther, her German mentor, are happy to chat with any passenger and spend much of their time sharing inscrutable private jokes - though Alex warns that occasionally they have spats and don't speak to each other.
Soaring over SF
This time, Board and Gunther keep the skies friendly as we reach San Francisco. We fly over the Golden Gate Bridge just as the sun dips below the horizon. A massive container ship has run aground on the rocks just west of the bridge, and we watch in awe as a Coast Guard boat tows it out to the Pacific. Then we turn and drift back over the Bay as the city lights up and the bright sliver of a new moon rises above it.
Back at Moffett Field, after our two-hour tour is finished, the passengers agree it was unforgettable - but wonder how long Airship Ventures can last.
"I just don't see the business model," says Glass, the Silicon Valley veteran. The Halls are still making payments (in euros) on the zeppelin, plus paying for insurance, hangar rental, helium tanks and part-time ground crew, in addition to their regular staff. For a month each year the Eureka is grounded for its annual FAA inspection - an estimated loss of $1.3 million in revenue.
"It's going to be challenging, based on the costs," says Ferguson, the helicopter pilot. "And the aviation industry is a pain to begin with."
The Halls insist they can be profitable by the end of the year - assuming that an advertiser pays to splash its logo on the Eureka's side. And they have other ideas. Brian says he has received inquiries from more than 50 NASA scientists interested in using the zeppelin for experiments, and he's toying with a winery tour weekend. He's also considering a ski weekend that would take passengers over the Sierra Nevada to Lake Tahoe. He's looking for partners in the New York area to help operate a zeppelin on the East Coast.
"We'd like more ships," he admits, noting that additional zeppelins wouldn't cost that much more to maintain because Airship Ventures already has the staff to operate them. "Three is the sweet spot."
My questions about the ability of the current U.S. economy to handle one zeppelin, let alone three, bounce right off Brian. A zeppelin ride isn't a luxury like a spa visit, he says; it's a once-in-a-lifetime event. "We've had passengers who are celebrating their return from Iraq or beating cancer," he says. "Every day we create memories and smiles. You can't look at our ship and feel grumpy."
When you're a helium head, you're riding high in clear skies - and no ballast in the world will weigh you down.
Watch the zeppelin in action: Zeppelin tour biz takes flight

Photo gallery: Flying the Eureka

To write a note to the editor about this article,
click here
.