New home sales show signs of revival
Despite a decline in March, the annual rate remains above what economists expect after an even stronger than originally reported February.
Photos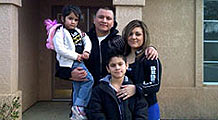 NEW YORK (CNNMoney.com) -- Sales of newly constructed homes are showing indications, ever so slight, that the housing decline may be near an end, a government report showed Friday.
The Commerce Department said new home sales fell 0.6% last month to a seasonally adjusted annual rate of 356,000. But that was from a rate of 358,000 in February that was revised up from the originally reported at 337,000 -- the level economists were expecting for March.
The net revision to the prior three months equals an increase of 31,000 units, according to Wachovia Economics Group.
"This is clearly a better-than-expected number," said Michael Larson, a real estate analyst at Weiss Research. "Technically, yes, sales declined, but the last three months were revised higher and the raw number came in better than expectations."
"All signs are pointing to stabilization in market conditions, which is due to lower prices," Larson said. "We still have a problem with unemployment, and that's why any rebound we see will be muted."
Another signs of a bottom in the market: The estimated number of new homes for sale at the end of last month was a seasonally adjusted 311,000, according to the Commerce Department. Last month, it was 328,000 unsold homes.
At the current sales pace, it would take 10.7 months to sell through that inventory, according to the report. That's down from the previous month, when the estimated months of inventory was 11.2, and was nearly 2 months below January's level of 12.5.
"While the inventory correction will likely overshoot to the downside, we are getting closer to stability in the marketplace," said Adam York, economist at Wachovia Economics Group, in a research note. He added that new home inventory is now approaching late 1990s levels.
"As we have long said, getting the new home market back into equilibrium is an important precursor to broader housing market improvement," York said.
The median sales price of new houses sold in March was $201,400, down 3.5%from the revised $208,700 in February and 12.1% from March 2008, when it was $229,300.
"Median prices fell for the third straight month as builders fought the rising tide of foreclosure sales for buyers' attention," said York.
As buyers bargain shop for deals on foreclosed properties, homebuilders have drastically scaled back production to meet falling demand.
On Thursday, the National Association of Realtors said sales of existing homes fell 3% in March, after an unexpected rise the month before.

Features

These Fortune 100 employers have at least 350 openings each. What are they looking for in a new hire? More

It would be the world's second-biggest economy. See how big companies' sales stack up against GDP over the past decade. More