Exxon profit falls on economy, lower prices
The oil company says net income fell 58% in the first-quarter as demand for energy slumped.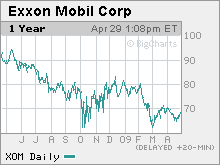 NEW YORK (CNNMoney.com) -- Exxon Mobil reported a big drop in first-quarter earnings and revenue Thursday due to lower commodity prices and the weak global economy.
The Irving, Texas-based company said it earned $4.5 billion in the first quarter, down 58% from $10.89 billion a year earlier. On a per-share basis, Exxon said it earned 92 cents, off 54% from $2.03 in the first quarter of 2008.
Analysts were expecting earnings of 95 cents per share, according to Thomson Reuters.
Exxon, along with most other energy companies, has seen its profit decline with the price of oil, which has tumbled nearly $100 a barrel from last summer's all-time high.
Revenue in the quarter plunged 45% to $64 billion as the weak global economy undercut demand for energy. But sales were higher than the $54 billion that analysts had forecast.
Even as oil prices decline, Exxon said spending on exploration projects rose 5% to $5.8 billion in the quarter.
Looking ahead, the company said it expects to spend $29 billion on capital expenditures this year.
"We are committed to investing in our world-class inventory of projects to develop new energy supplies which are vital to economic growth," Exxon said in a statement.
Oil and gas production in the quarter rose slightly to 4.2 million barrels per day. Excluding certain entitlements, the effects of OPEC quotas and divestments, Exxon said production was up 2%, Exxon said.
In a conference call with analysts, Exxon reaffirmed its expectation to produce about 4 million barrels per day for all of 2009.
"In spite of the dramatic changes to the global economic environment, Exxon Mobil is maintaining its long-term focus and disciplined approach to capital investment," the company said.
Exxon returned a total of $9 billion to shareholders through dividends and share purchases. In the second quarter, the company expects to spend about $5 billion on share repurchases.
"They still have huge amount of cash on their balance sheet," Gheit said. "They can do whatever they want, and they are using their cash to buy back stock and increase dividends."
Exxon (XOM, Fortune 500) shares were down about 3% to $66.61 in Thursday trading.

Features

These Fortune 100 employers have at least 350 openings each. What are they looking for in a new hire? More

It would be the world's second-biggest economy. See how big companies' sales stack up against GDP over the past decade. More