Chrysler files for bankruptcy
Some lenders refuse offer to reduce debt, leading to Chapter 11 bankruptcy filing. But Chrysler will remain in business and completes deal with Fiat.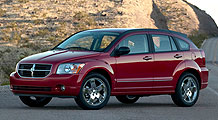 Chrysler was king of the hill with its 300 series just a few years ago. Oh how the mighty have fallen.
NEW YORK (CNNMoney.com) -- Chrysler LLC filed for bankruptcy Thursday. But a deal has been reached to combine the company with Fiat in order to allow Chrysler to stay in business.
The bankruptcy filing, which was made in federal court in New York, comes after some of Chrysler's smaller lenders refused a Treasury Department demand to reduce the amount of money the troubled automaker owed them.
In remarks at the White House, President Obama said that the bankruptcy filing is not a failure for the company but "one more step on the path to Chrysler's revival."
Obama vowed the bankruptcy process would be quick, efficient and controlled. A senior administration official predicted it would be completed within 30 to 60 days. The combination with Fiat is also due to close during that period of time.
According to government officials, a new company will be formed that will buy the assets of Chrysler - its plants, brands, land, equipment, as well as its contracts with the union, dealers and suppliers - from the bankruptcy court.
The company's liabilities and an unspecified number of Chrysler's 3,300 dealerships which now sell the Chrysler, Dodge and Jeep brands will be left behind in the bankruptcy court.
Administration officials said the Treasury Department will provide Chrysler with about $8 billion in loans on top of the $4 billion in loans it has already received to get it through bankruptcy.
Officials said $3.3 billion of the new loans will be used to fund operations during bankruptcy, while the remaining $4.7 billion will allow Chrysler to function normally once it exits bankruptcy. In addition, the Canadian government will loan the companies $2.7 billion to help support Chrysler's Canadian operations.
Jobs safe for now, but plants will close temporarily
While an administration official promised there will be no immediate job cuts for the company's 39,000 employees or plant closings, Chrysler announced that most manufacturing operations will be temporarily shut down on Monday, May 4. Normal production is not due to resume until the transaction with Fiat is completed.
But some Chrysler plants, including truck assembly and stamping plants in Warren, Mich., shut down earlier than scheduled on Thursday. Following the bankruptcy filing, some suppliers worried about being paid stopped shipping parts to the plants.
"I was hoping we could get through this unscathed," said Gene Behme, a production technician at the Warren stamping plant as he left work about an hour early. "I'm disappointed. I would like to keep working. Hopefully we'll come through stronger."
Chrysler President Tom LaSorda would not say how many plants would shut down early or how many suppliers had cut off shipments on the bankruptcy news.
"Hopefully most of the suppliers will continue to supply us," he said.
Most of Chrysler's hourly workers will receive about 80% of their normal pay during the shutdown under unemployment benefits and supplemental pay in the union contract.
The employees whose jobs may be most immediately in danger are the 3,400 workers of Chrysler Financial, which provides loans to Chrysler customers and its dealers.
That unit is essentially going out of business. As part of the reorganization, lending will now be provided by GMAC, the finance arm jointly owned by General Motors (GM, Fortune 500) and current Chrysler parent Cerberus Capital Management. (Cerberus will end up with no stake in Chrysler once the bankruptcy is complete and is in the process of cutting its stake in GMAC to less than 15%.)
Some of the 140,000 employees at Chrysler's network of dealers could also be at risk. Chrysler CEO Robert Nardelli said that the reduction in the network of 3,300 dealers would not be a "catastrophic" but that it would be "noticeable."
Nardelli, who joined Chrysler two years ago, will leave after Chrysler emerges from bankruptcy and completes the alliance with Fiat.
Fiat will be calling more of the shots after the combination as the deal calls for it to provide "management services" to Chrysler.
A successor for Nardelli will be named by the new Chrysler board of directors, which will have four members named by the Treasury Department, three named by Fiat, and one each by the UAW and the Canadian government.
Once the deal closes, Fiat will examine the cost structure of Chrysler to find additional savings. Fiat has promised to use Chrysler's existing plants to build the small cars it now sells in Europe for the U.S. market.
Last-minute deals ensured Chrysler's survival
Chrysler faced a midnight Thursday deadline from the Treasury Department to reach deals with creditors who had loaned the company about $7 billion.
But the troubled 85-year old automaker was able to avoid liquidation thanks to the deal with Fiat, concessions from the United Auto Workers union and agreements by major lenders to cut Chrysler's debt.
The UAW announced late Wednesday night that its membership at Chrysler had overwhelmingly ratified the agreement reached between the company and union leadership on Sunday night.
As a result of that deal, the UAW will own 55% of Chrysler. Fiat will own a 20% stake with the option of increasing it to 35%. The U.S. government will own 8% and Canada will have a 2% stake.
Major banks such as Citigroup (C, Fortune 500) and JPMorgan Chase (JPM, Fortune 500) agreed to reduce their portion of $7 billion in secured loans to a more manageable $2.25 billion, but talks with smaller lenders broke down Wednesday when they refused to meet a deadline set by the Treasury Department to accept pennies on the dollars for loans to Chrysler.
Nonetheless, the fact that Chrysler will not have a disorderly bankruptcy may prevent a rash of failures across the auto supplier industry that had the potential to disrupt production at other automakers.
Chrysler owes its suppliers about $7 billion, according to the latest figures available from the company. Some of those suppliers could still be hurt by the bankruptcy filing.
And the auto industry's woes are far from over. Sales have plunged due to the global recession and tighter credit. Major automakers are expected to report dismal April sales on Friday.
Chrysler has been among the hardest hit. It has fallen behind Toyota Motor (TM) in sales, and is close to being overtaken by Honda (HMC) for the No. 4 spot for U.S. sales.
In addition, GM faces a government-imposed deadline to restructure by the end of May or it too could be forced into bankruptcy.
CNN White House correspondent Suzanne Malveaux and CNN senior correspondent Allan Chernoff contributed to this story.

Features

These Fortune 100 employers have at least 350 openings each. What are they looking for in a new hire? More

It would be the world's second-biggest economy. See how big companies' sales stack up against GDP over the past decade. More