Speed of the essence: Chrysler lawyer
First Chrysler bankruptcy hearing focus on maintaining wages, benefits for workers, warrantees for buyers.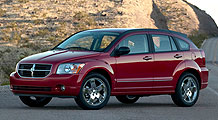 Chrysler was king of the hill with its 300 series just a few years ago. Oh how the mighty have fallen.
NEW YORK (CNNMoney.com) -- Lawyers representing Chrysler LLC said on Friday that a speedy bankruptcy process is essential to the survival of the company.
"We have to hit it on high gear; we have to hit it on high speed," said Corinne Ball, a partner at Jones Day, one of the firms representing Chrysler. "They're all waiting on us to start up again."
Ball made her comments during the first day of hearings in U.S. Bankruptcy Court in the Southern District of New York. The hearings took place as Chrysler began to idle its plants.
Speed was of the essence in completing the process to put people back to work, Ball said. "No company can survive in Chapter 11" for very long," she said.
President Obama has said it is essential that Chrysler, which filed for Chapter 11 on Thursday, complete its bankruptcy process within 30 to 60 days. This would be unprecedented, as major bankruptcies tend to take years.
Judge Arthur Gonzalez, who will preside over the case, offered few comments. The judge is experienced in massive bankruptcies, having handled the dissolutions of Enron and WorldCom. Though Chrysler's Chapter 11 action is smaller than the other two companies' cases, it represents the largest bankruptcy of any manufacturer.
Ball said that maintaining pay and benefits for the company's 38,000 workers is "important to preserving our ability to keep the organization intact."
Some of the lawyers who attended the hearing represented the interests of industries that conduct business with Chrysler. Michael Bernstein of Arnold & Porter represents auto dealers.
"The dealers are really the only source of income that Chrysler has," said Bernstein, speaking before the court. "They are the buyers of every Chrysler car in the U.S. Chrysler can't survive without the dealers and the dealers can't survive without Chrysler."
After the hearing, Frederic Spar, a spokesman for Kekst and Co., an advisory firm that represents Chrysler, said maintaining consumer agreements through the bankruptcy process is also key to the company's interests.
"The most important things are the warrantees to the owners and buyers and cars," said Spar. "They're the lifeblood of the company."
The hearing, located in a Manhattan courtroom, was standing room only. A woman attending the hearing fainted and collapsed, and was treated by a lawyer with paramedic training.
The hearings continue on Monday.
Chrysler is the only privately-held automaker among the Big Three. Its rivals, Ford Motor Co. (F, Fortune 500) and General Motors (GM, Fortune 500), are publicly traded.

Features

These Fortune 100 employers have at least 350 openings each. What are they looking for in a new hire? More

It would be the world's second-biggest economy. See how big companies' sales stack up against GDP over the past decade. More