Deal on 'cash for clunkers' bill
Obama administration says it will stand behind deal struck by House Democrats to push forward legislation to stimulate car sales.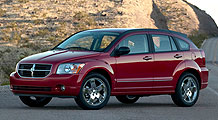 Chrysler was king of the hill with its 300 series just a few years ago. Oh how the mighty have fallen.
WASHINGTON (CNNMoney.com) -- The Obama administration has signaled its support for a congressional effort that aims to boost the troubled car industry by subsidizing new cars sales for consumers who scrap old ones.
Congressional Democrats, emerging from a meeting at the White House on Tuesday, said they had struck a deal on a bill to establish a one-year program to encourage the purchase of 1 million new cars and trucks that get better gas mileage.
Under the so-called cash-for-clunkers legislation, consumers with old, gas guzzlers could get $3,500 or $4,500 in government vouchers to use toward the purchase of new cars that get gas mileage that exceeds the old car's by four miles per gallon.
"It's going to be a dramatic boom for our economy," said Rep. Henry Waxman, D-Calif., who heads the House Energy Committee.
The bill would be a part of a larger energy bill, which House leaders hope to pass before Memorial Day, Waxman said in an impromptu press conference on the White House lawn with other Democrats on the House Energy committee.
The deal on cash-for-clunkers would put more vouchers in the hands of consumers than a competing bill in the Senate. Its broad nature is irking environmentalists who say it helps automakers more than the environment.
For example, under the deal, a consumer could turn in a clunker that gets 18 miles per gallon and get $3,500 to buy a car that just barely meets minimum emissions standards in the United States.
"It's greenwash," said Therese Langer of the American Council for an Energy-Efficient Economy. "The notion that this would be part of an energy and climate bill seem particularly absurd."
But automakers Ford (F, Fortune 500) and General Motors (GM, Fortune 500) applauded the deal on Tuesday.
"It's well structured, well-received by consumers, well supported by manufacturers and can have a positive effect on primary demand," said GM Chief Executive Fritz Henderson, who was on Capitol Hill talking with lawmakers. "This is something we've been supportive of, we're encouraged by it and we'd like to see implementation rapidly."
The United Auto Workers union also commended the legislation, saying it would boost car sales.
"Congress should act right away on this high-priority measure, to deliver an immediate stimulus to our auto industry and to keep Americans working," President Ron Gettelfinger said.
Even after the House deal, however, the fate of the Senate version remains uncertain.
The environmentally tougher Senate bill would require that the subsidies be limited to new cars that get 25% better gas mileage than current minimum fuel standards (27.5 miles per gallon for passenger cars and 23.1 for trucks).
The House deal does not offer any vouchers for the purchase of used cars. It also has drawn the ire of auto recyclers, because the clunkers would have to be destroyed.
Bill proponents have pointed to programs in Europe, especially in Germany, where auto sales increased dramatically after the country enacted a program to subsidize purchase of new cars by scrapping clunkers that are at least 9 years old. However, emissions standards on new cars throughout Europe are tougher than American standards.
But bill sponsor Rep. Betty Sutton, D-Ohio, called the deal a "good example of what collaboration can do."
"It will spur auto sales and stimulate the economy," said Sutton who was also at the meeting at the White House. "Energy independence is going to require that kind of innovative thinking and deal with the transition that this bill requires."

Features

These Fortune 100 employers have at least 350 openings each. What are they looking for in a new hire? More

It would be the world's second-biggest economy. See how big companies' sales stack up against GDP over the past decade. More