Gas prices surge 10%
Prices at the pump are up 20 cents over the last 14 days but analysts say $4 a gallon is not in the cards.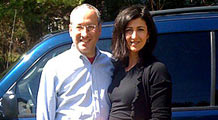 From a 1997 Mercury Cougar to a 2009 Honda Pilot, 8 readers tell us why they decided to buy a new car or keep their old wheels.
NEW YORK (CNNMoney.com) -- There's plenty of economic pain to go around these days because of the recession. Now there's this: Gas prices have surged nearly 10% over the past two weeks.
That's a gain of 20 cents during the past 14 days, and the national average hit $2.248 a gallon on Tuesday, according to a survey by motorist group AAA.
The good news: Analysts say a return to last summer's record highs of $4 a gallon is not on the horizon. Indeed, while prices have been on a tear, they are still some 46% lower from the all-time high of $4.114 a gallon hit last July.
The recent spate is not the first time this year that gas prices have risen dramatically for a short period. In January, prices jumped more than 10% in less than two weeks.
And the current runup is not surprising because prices typically increase ahead of the Memorial Day holiday -- the unofficial beginning of the peak summer driving season.
"A bump-up is to be expected this time of year but we're not on the way to another spike," said AAA spokesman Troy Green. He said he would be "surprised" to see prices reach $3.50 a gallon, barring unforeseen supply disruptions such as a hurricane, and he would be "shocked" to see $3.75 a gallon this summer.
The oil factor. Many analysts expect gas prices to continue climbing over the next few weeks, largely because of rising crude oil prices, the main ingredient in gasoline.
"Gas prices have trended higher in lockstep with crude prices," said Chris Lafakis, economist at Moody's Economy.com. "Crude is the biggest input in the price of gasoline."
Oil prices have rallied some 73% over the past three months as signs the economy is headed for a recovery have raised bets that demand for oil and gas will rebound sooner rather than later. Oil prices edged lower Monday after closing at their highest level of the year Friday.
Despite the recent increase in oil prices, the fundamental backdrop for crude market does not support higher prices, analysts said. And that may help keep gasoline prices in line.
"There's some irrational optimism about the future," said Tom Kloza, chief oil analyst for the Oil Price Information Service. "People are looking at the bright side and not the actual data points for supply and demand."
Demand for oil is at its weakest level since 1995 and the nation's supplies of crude are at their highest since 1990, according to the Department of Energy.
Ebb and flow of driver demand. While there are some indications that demand for gas is firming up and that drivers are gradually increasing the number of miles they drive each month, the lousy economy is expected to keep a lid on gas prices.
For drivers, income is the number one issue when it comes to how far and how often they drive, Lafakis said. With unemployment at 8.9% and rising, consumers are likely to remain frugal, keeping downward pressure on gas prices.
"In an environment where income growth is very weak or has declined, you're not going to get the kind of demand that is necessary to push gas prices to $2.50 or $3.00 a gallon," he said. "That won't happen this summer because the macro economic environment is putting a ceiling on gas prices."

Features

These Fortune 100 employers have at least 350 openings each. What are they looking for in a new hire? More

It would be the world's second-biggest economy. See how big companies' sales stack up against GDP over the past decade. More