A not-so-awful bad housing report
Government report shows surprising sharp drop in housing starts and building permits, but single-home data show signs of stabilization.
Photos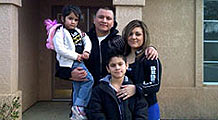 NEW YORK (CNNMoney.com) -- Initial construction of U.S. homes and building permits both sank to record lows in April, according to a government report released Tuesday, but the same report also showed signs of stabilization in the single-family core of the housing market.
"Markets trade on headlines but the details of this report are less bad," said Ian Shepherdson, Chief U.S. Economist at High Frequency Economics, in a research note.
While the housing sector overall remains weak, the headline numbers of this report were dragged to record lows by the staggering multifamily sector.
"The devil is in the details here," said Mike Larson, real estate and interest rate analyst at Weiss Research, in a research note.
"The weakness in April was concentrated in the multifamily sector of the market - condos, apartments, and so on," said Larson. "That likely stems from the ongoing condo glut and the tighter financing conditions we've seen in the commercial real estate arena."
Record lows: Housing starts fell 12.8% to a seasonally adjusted annual rate of 458,000, down 12.8% from a revised 525,000 in March, according to the Commerce Department. The reading is the lowest level since the government began keeping records in 1959. The second lowest reading came in January, when the rate of housing starts was 488,000.
Economists were expecting housing starts to come in at 520,000, according to a consensus estimate compiled by Briefing.com. Compared to the same month last year, privately owned housing starts were 54.2% below the revised April 2008 rate of 1,001,000.
Applications for building permits, an indicator of future construction activity, fell 3.3% to a seasonally adjusted annual rate of 494,000 in April. The measure for building permits was also a record low, going back to January 1960, the furthest back the government has records. Economists were expecting permits to come in at 530,000 in April, according to the Briefing.com consensus.
Silver lining: The silver lining in an otherwise grim report was that new construction of single-family homes, considered the core of the housing market, rose 2.8% in April over the prior month, to an annual rate of 368,000. New construction of multi-family homes with 5 units or more sank to an annual rate of 78,000, down 42% from a revised 135,000 in March.
Similar to housing starts, the majority of the drop off in building permits was centered in multi-family homes. Building permits for single family homes rose 3.6% in April to a seasonally adjusted rate of 373,000. Building permits for multi-family units with five or more units fell 21% to an annualized rate of 103,000.
"All the drop in both starts and permits is in the hyper-volatile and hyper-depressed multi-family sector," said Shepherdson. Despite month-to-month volatility, the single family housing market has showed signs of a revival.
Going forward: Stability in the single-family sector combined with a recent uptick in builder confidence, according to a report from the National Association of Home Builders/Wells Fargo released Monday, indicate the rate of deceleration in the construction market could begin to slow.
"Homebuilders are more optimistic, according to the NAHB survey, so it seems reasonable to expect the rate of decline of new construction to slow," said Shepherdson
Larson said that the single-family market would still have to contend with a glut of inventory, "but these figures add to the evidence of potential stabilization in that part of the industry."
Another economist echoed the sentiment that the report could point to a bottoming out in the sector.
"Single-family activity managed a second straight gain, giving some credence to a bottoming process," said Adam York, economist at Wachovia, in a research note. Even as the single-family sector shows signs of life, York expects the multifamily sector to "likely remain under pressure."

Features

These Fortune 100 employers have at least 350 openings each. What are they looking for in a new hire? More

It would be the world's second-biggest economy. See how big companies' sales stack up against GDP over the past decade. More