HP weathering the PC downturn
Analysts expect the tech giant to post moderately lower earnings and revenue as other services and cost-cutting efforts offset a bottoming PC market.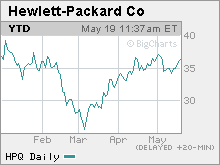 NEW YORK (CNNMoney.com) -- Hewlett-Packard, which will report quarterly results after the bell Tuesday, is expected to have pulled through the industrywide slowdown in PC sales fairly well, say experts.
In February, HP slashed its full-year outlook after it reported lower-than-expected quarterly revenue that was driven down by low consumer demand. But experts say consumer conditions are beginning to improve. Analysts also agree that HP's newly-implemented cost-cutting measures and the integration of IT services company EDS should help stabilize the company's financial results.
"Despite strong macroeconomic headwinds, we anticipate a solid quarter ... due to cost cutting, further progress in its integration of EDS and a favorable mix shift," wrote Shaw Wu, senior research analyst with Kaufman Bros., in a recent note to investors.
After the closing bell Tuesday, HP (HPQ, Fortune 500) is expected to report a profit of 86 cents per share for the company's second quarter ended April 30, down 1% from a year ago, according to analysts polled by Thomson Reuters. Analysts expect HP's revenue to have dropped 3% to $27.4 billion in the quarter.
Managing PC sales. Although global PC sales slipped 7% during the first quarter of this year, HP's sales bucked the trend and rose 3%, according to tech analysis firm IDC. PC sales account for more than a third of the revenue at HP, the world's largest PC maker.
The rise in HP's sales surprised many analysts, since the company's notebooks and PCs are generally higher-priced than its largest competitor, Dell (DELL, Fortune 500). HP controls about a tenth of the lower-end netbook market, but those sales are less profitable than standard laptops.
HP makes about a quarter of its revenue from its imaging division, which sells printers and printer toner and cartridges. Sales are expected to be way down but an increase in toner prices during the quarter should help smooth out bumps in the road, say analysts.
The company's solutions division is also expected to show mixed results. HP's server business likely took a hit as businesses moved to cheaper solutions like off-site cloud computing. But since HP also offers many of those less expensive solutions as part of its services business, experts say service gains should help offset server losses.
Cost cutting. Analysts say that several cost-cutting measures instituted by HP, including a 5% company-wide salary cut implemented early in its second quarter, will help it navigate throughout the economic storm. HP is also trimming costs by its ongoing efforts to eliminate overlap with EDS. The company announced in September that it would slash 24,600 jobs, or 8% of its combined workforce, by the end of 2011 as a result of the $14 billion acquisition.
HP is often compared to rival IBM because both are large players in a number of different tech businesses.
"IBM's slight revenue miss ... gave us some concern, but we believe HP is offsetting with cross-selling and thus share gains," said Wu.
Shares of HP have been flat since January, compared with IBM's (IBM, Fortune 500) 25% rise and Dell's 11% jump. But HP's stock is up 41% since the stock market bottomed out on March 9, even with Dell's 41% jump and better than IBM's 26% rise.

Features

These Fortune 100 employers have at least 350 openings each. What are they looking for in a new hire? More

It would be the world's second-biggest economy. See how big companies' sales stack up against GDP over the past decade. More