Homes: Almost 20% cheaper
S&P/Case-Shiller index reports huge decline of 19.1% for the first quarter.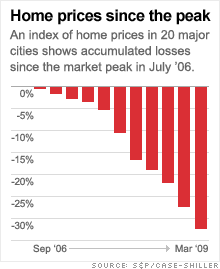 NEW YORK (CNNMoney.com) -- The home price slide accelerated during the first three months of 2009, according to a report issued Tuesday.
The S&P/Case-Shiller National Home Price index, a bellwether of real-estate market direction, plunged a record 19.1% during the quarter compared with the first three months of 2008. That followed an 18.2% drop last quarter.
The Case-Shiller 20-city index dropped 18.7% year-over-year, also a record. It fell 18.5% during the last three months of 2008. This index has plummeted 32.2% from its July 2006 peak and has fallen 32 straight months.
The national index covers almost all homes sold throughout the United States and is reported quarterly, while the 20-city index reports sales in 20 major metro areas and represents a cross section of the national market. The 20-city index comes out every month.
"Declines in residential real estate continued at a steady pace into March," said David Blitzer, chairman of the Index Committee at Standard & Poor's in a prepared statement. "All 20 metro areas are still showing negative annual rates of change in average home prices with nine of the metro areas having record annual declines."
The ugly report was somewhat unexpected, according to Mike Larson, a real estate analyst for Weiss Research.
"The market was anticipating better results," he said. "There had been some signs of increased sales in post-bubble markets."
But that sales increase has not translated into higher prices. Bargain hunting - bottom fishing really - for foreclosures and other distressed properties has driven sales volume up while further depressing prices.
The foreclosure sales, which many appraisers used to ignore when they evaluated home prices because they represented outliers rather than typical sales, now have to be accounted for.
"These used to be anomalies," said Larson. "Now, when sales are dominated by foreclosures, where they represent 50% or more of [transactions], they are the market."
The market plague has burst far beyond its Sun Belt epicenter, as the latest month's data reveals. In March, Minneapolis recorded the largest monthly price loss of any metro area in the 20-city index, losing 6.1% compared with February. That is the biggest single-month decline for a city in index history.
Sun-Belt cities still had the largest year-over-year declines in March, with Phoenix prices down 36%, Las Vegas off 31.2% and San Francisco dropping 30.1%.
Two cities have now have fallen more than 50% from their peak prices: Phoenix is down 53% since June 2006 and Las Vegas is off 50.4% from its August 2006 high. Dallas prices suffered the smallest loss from peak, just 11.1% since June 2007.
Economist Mark Zandi, the founder of Moody's Economy.com, is optimistic that the market will stop falling sometime this summer or fall. "We need to focus on the mortgage-modification program," he said. "If that plan doesn't work or only works as well as the other modification programs have, we've got a problem."

Features

These Fortune 100 employers have at least 350 openings each. What are they looking for in a new hire? More

It would be the world's second-biggest economy. See how big companies' sales stack up against GDP over the past decade. More