'Cash for clunkers' rolling in Senate
Lawmakers are expected later this week to consider a program to subsidize new auto purchases. A House panel has already approved a version.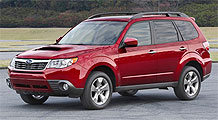 Vehicles like these will help SUV and truck owners get the biggest bang for their trade-ins.
WASHINGTON (CNNMoney.com) -- The Senate is poised this week to take its first crack at a "cash for clunkers" proposal to boost the troubled auto industry.
Some senators plan to propose attaching the provision to an unrelated bill that would allow the Food and Drug Administration to regulate tobacco sales, according congressional aides and auto industry sources.
President Obama has been pushing Congress to pass cash for clunkers, which would offer government subsidies to consumers who purchase certain new cars and scrap old ones.
In announcing the bankruptcy of General Motors (GM, Fortune 500) on Monday, Obama urged lawmakers to "provide a credit to consumers who turn in old cars and purchase cleaner, more fuel-efficient cars. He made a similar pitch a month ago when Chrysler LLC declared bankruptcy.
The House Energy and Commerce Committee has already passed a version of the subsidy provision, embedded in a 900-page energy bill that is considered controversial and unlikely to get enough support anytime soon to move through the process.
So now the focus has turned to the Senate, where two versions of a subsidy bill are floating around. Neither has yet been considered by a Senate committee, a step usually considered a prerequisite for a bill moving ahead.
Sen. Debbie Stabenow, D-Mich., along with Sen. Sam Brownback, R-Kansas, are sponsoring an auto subsidy bill that's nearly identical to the House version. Their bill is the one that could be taken up later this week, Senate aides say.
As currently worded, the proposal would offer electronic vouchers that would knock off as much as $4,500 from the price of a new auto purchase or lease of a new car. The government would also offer cash rebates to those who have purchased a qualifying new car since March 30.
The program would last one year, with the clock starting on the day that government officials finalize rules for it.
While the original cash-for-clunkers proposal had its roots in an environmental initiative to get less fuel efficient cars off the road, the Stabenow proposal would jump-start sales of new cars and trucks, including some that don't quite meet the average fuel efficiency standards.
"Bottom line, this legislation will help stimulate new car and truck sales, saving good-paying jobs in the process," Stabenow said in a statement.
Environmental lobbying groups wish that the Stabenow-Brownback bill would be more geared toward cutting carbon emissions. They would prefer an environmentally tougher version -- sponsored by Sen. Dianne Feinstein, D-Calif. -- that aims to replace more gas guzzlers with more environmentally sensitive and fuel efficient cars.
"The compromise proposed by Sen. Feinstein is substantially better than the version introduced by Sen. Stabenow, because the vehicles must have better than average fuel economy in all classes," said Therese Langer with the American Council for an Energy-Efficient.
In a nod to the auto sales aspect of the effort, the Stabenow-Brownback proposal is called the "Drive America Forward Act."
Clunkers eligible for the program must get 18 miles per gallon, or less, in combined city and highway driving. That means the effort would benefit owners of light trucks, SUVs and mini-vans more than it would owners of regular old passenger cars, auto experts say.
The auto industry is hoping the Senate takes up the measure this week.
"We're very encouraged that we now have bills in the House and Senate," said Mike Moran, a spokesman for Ford Motor Co. (F, Fortune 500), which has helped lead the industry push for cash for clunkers.
Moran pointed out that auto companies are scheduled to release another sales report on Tuesday, and he expects it to be gloomy. "We see a great deal of urgency ... We need to see this legislation move through."
Attaching an auto provision to a bill giving new power to the FDA to regulate tobacco products may seem unusual. But aides and industry experts say Democratic leadership recognize the sense of urgency to passing the auto subsidy, and the tobacco bill is headed for a full Senate vote.
The tobacco bill would allow the FDA to ban some tobacco products, limit the amount of nicotine in tobacco products and enlarge warning labels. Senators from tobacco-producing southern states oppose the bill.
None of the auto subsidy bills that are moving have revealed what the subsidies would cost the federal government.
Some experts who have been involved in early discussions of the legislation say it would aim to replace 1 million vehicles. That suggests the cost could be as much as $4.5 billion, if the maximum amount of vouchers are distributed.
The Senate version to be considered this week simply states that the cost of the subsidy program would be paid through the $787 billion stimulus package that Congress passed in February.

Features

These Fortune 100 employers have at least 350 openings each. What are they looking for in a new hire? More

It would be the world's second-biggest economy. See how big companies' sales stack up against GDP over the past decade. More