Don't expect a GM fire sale
You'll find some good deals on General Motors cars, but don't look for panic selling and rock bottom prices.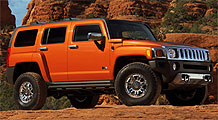 With the carmakers in turmoil, now's the chance for savvy buyers to look for big deals on cars and trucks that typically aren't discounted. Here are a few of the best.
Find your next Car

NEW YORK (CNNMoney.com) -- Now that General Motors has filed for Chapter 11 bankruptcy protection, car shoppers might figure they're about to get screaming deals on GM cars and trucks.
Actually, they probably won't.
"This isn't like Circuit City where things just get cheaper and cheaper," said Phil Reed, consumer advice editor for the automotive Website Edmunds.com.
Prices on GM vehicles are already about as low as they can realistically get.
Auto sales - and GM sales in particular - have been getting hammered by the nation's weak economy. There simply isn't room left for prices to go much lower.
Customers who go into dealerships expecting the sort of drastic markdowns they might have seen on flat-screen TVs and boom box radios at distressed electronics retailers won't see cars dealers going quite that far.
"They're not going to the extent of 50% off and that kind stuff," said Jack Nerad, managing editorial director for Kelley Blue Book's KBB.com Web site.
Inventory squeeze
While they may not be drastic, some additional price cuts could be coming down the road, Reed said. GM might boost its incentive programs and dealers could find ways to cut prices to clear out cars that remain sitting on the lot too long.
On the other hand, GM is just beginning a round of previously announced shut-downs of many of its factories. Even the ones that are just shutting down temporarily will be out of operation for at least several weeks. Without new vehicles coming out of factories, the more desirably equipped and colored cars, trucks and SUVs will get tougher to find.
That raises a dilemma for bargain-hunting car shoppers.
"Will the inventory still be attractive by the time the prices get low?" said Reed.
Moral of the story: Wait for huge discounts and you could end up picking through the dregs, especially on more popular models like the Chevrolet Malibu and Traverse or the Buick Enclave.
Dealer cuts
Like Chrysler, GM is thinning its dealer ranks. While Chrysler is pulling its franchise agreements from 789 dealers, GM recently told 1,100 of its dealers that it wouldn't be renewing contracts.
The two automakers dealt with the situations differently. When Chrysler sent out its "Dear Dealer" letters, it gave those businesses just one month to get out of the business of selling Chrysler, Dodge and Jeep vehicles. After that, Chrysler announced, it wouldn't be buying back any leftover vehicles but would help dealers find other dealers to buy the excess products.
That means that, as the June deadline approaches, some of those left-behind Chrysler dealers may be under pressure to take make deals.
Most GM dealers have been given until the fall of next year to sever their ties with the automaker.
"GM has put some dealers on the chopping block, but not with such a short time to execution as Chrysler," said Nerad.
So, most aren't feeling any particular pressure to sell down their inventory now, at least not any more than any other GM dealer. That's good for them, but it means there's less pressure to make wild deals.
"The timeline is not favor of consumers," said Reed.
Resale value
Ordinarily, an automaker filing for bankruptcy would seriously hurt the trade-in value of its cars and trucks, but the effects in this case should be fairly mild and temporary, Nerad said.
Two factors contribute to a relatively soft hit to the value of used GM vehicles, said Nerad.
For one thing, resale values on many GM weren't so great to begin with. On those individual models with strong resale value, like the Cadillac CTS, the value of the car should remain fairly strong even now.
For another, these companies aren't going out of business and most customers will quickly come to realize this.
"There will be an ongoing entity of both," Nerad said.
Anyone considering selling a GM product right now should probably wait until after the company emerges from bankruptcy protection, though, said Nerad. Once the carmaker is out from under that cloud, your car's value should bounce back, too.

Features

These Fortune 100 employers have at least 350 openings each. What are they looking for in a new hire? More

It would be the world's second-biggest economy. See how big companies' sales stack up against GDP over the past decade. More