Detroit layoffs threaten housing-market recovery
The plant closings may delay the nascent Detroit rebound and hurt other Midwestern housing markets. Some realtors see positive signs if this is rock bottom.
301 Moved Permanently
---
nginx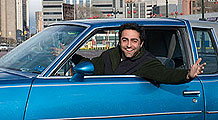 Detroit residents often are asked why they stay. 13 locals answer that question - and reveal their favorite treasures of the Motor City.
NEW YORK (CNNMoney.com) -- Just what the devastated Detroit housing market didn't need: more plant closings, more layoffs.
The Motor City absorbed the news Monday that General Motors would close 14 plants and three warehouses around the nation over the next 18 months. More than 20,000 workers will be affected, and two of the largest closings - an assembly plant in Orion with 3,405 workers and a truck plant in Pontiac that employs 2,671 - are both in the Detroit metro area.
The layoffs threaten to derail a slight market recovery that has been happening over the past several months, according to Bill Martin, the CEO of the Michigan Association of Realtors. "The real estate market in Michigan has shown a dramatic increase in sales," he said, "but values continue to be stagnant or are going down."
In Detroit, for example, home sales had risen 23% for the first four months of the year compared with the same period in 2008. The average price of homes sold in April, however, was just $20,514.
"Adding an additional 40,000 laid-off autoworkers will increase inventory and add to foreclosure issues," said Martin.
Detroit has been one of the nation's foreclosure hot spots for years. In April, there were 6,259 foreclosure filings in the metro area, one for every 303 housing units, according to RealtyTrac, the online marketer of foreclosure properties. That was down 26%, however, from last April.
"This will definitely have an impact on our community," said Bob Curran, a Century 21 broker in Dearborn, Mich., where Ford Motor Co. is headquartered. "But we've already been in this situation for more than two years. This is almost an anticlimax now."
Bargain hunters
First-time homebuyers taking advantage of rock-bottom prices, low interest rates and the $8,000 stimulus tax credit have been propping up Detroit home sales. But the past several months has also seen an infusion of out-of-town cash into the market.
"We have Canadians and Australians coming here to buy properties," Curran said. "Californians are buying five, six, seven houses at a time."
Many bank-repossessed properties are selling in big bundles of 100 or more, with each house in the lot going for less than $10,000. Other homes, especially in well-kept communities, are selling in the $40,000 to $50,000 range, according to Curran.
What's not moving, according to both Curran and Martin, are more expensive homes, of which the area has an abundance thanks to decades of well-paying auto-industry jobs. Those jobs are disappearing and are not being replaced, forcing middle and upper management to move and pursue opportunities elsewhere.
"The high end is very challenging," said Martin, "and values there are dropping drastically."
Other high-end employees are finding new jobs in other fields, according to John North, a broker with Coldwell Banker. "They're turning to alternative technologies like medical and green technolgies," he said.
That will eventually leave Detroit with a much more diversified economy, one better able to resist wide cyclical swings. The plant closings may even turn out to be a good thing for housing, in a counter-intuitive way, according to North.
"The uncertainty is gone," he said. "That caused as much of the decrease in home sales as anything."
Contagion
The auto industry's woes have had similar, though generally lesser, impact on other cities in the Midwest. In Mansfield, Ohio, which lies between Columbus and Cleveland, a stamping plant that employs more than 800 is closing. That is bad news for a market already in deep decline: Volume is down 18% this year and prices have dropped about 7.8% from already low levels.
"Things have been going downhill for the past year," said Dan Danhoff, a real estate broker there with Century 21. "It's one of the most affordable areas in the state."
The good news, he said, is that there has been an up-tick in first-time homebuyer sales thanks to increasing affordability. The median home sold for $70,000 in the Mansfield metro area during the first three months of 2009, according to the National Association of Homebuilders and Wells Fargo Bank. At the market peak in the third quarter of 2005, the median home price was $95,000.
In Indianapolis, a GM stamping factory with 670 workers will be closing as part of the cuts announced Monday. But the city's economy is diverse enough to withstand this round of pain.
Having several major employers - including pharmaceutical maker Eli Lily (LLV), insurer Conseco (CNO), medical device manufacturer Guidant, Clarian Health and Dow (DOW, Fortune 500) AgroSciences - will insulate the Indianapolis market from the lay-offs without too much trouble, according to Glenn Bill, an agent with Century 21 Sheetz.
"Where the plant closings are really hitting hard is the smaller cities like Kokomo," he said.
As in the other hard-hit industrial cities, it's the sales of higher end homes that are plaguing Indianapolis. "The upper managers have big homes they just can't sell," said Bill.

Features

These Fortune 100 employers have at least 350 openings each. What are they looking for in a new hire? More

It would be the world's second-biggest economy. See how big companies' sales stack up against GDP over the past decade. More