Big companies make hay off stimulus
The nation's largest businesses are raking in billions on stimulus projects ranging from nuclear waste cleanup to restocking food banks with chicken.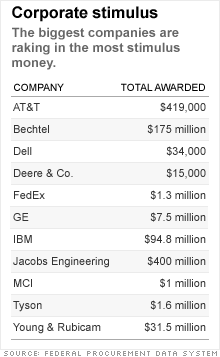 Map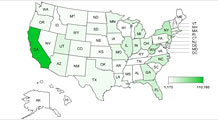 NEW YORK (CNNMoney.com) -- Big companies, ranging from AT&T to Dell to FedEx to Tyson Foods, are among those cashing in on the billions of dollars of federal stimulus money that is rolling out the door.
Some $4.3 billion of federal money is already funding more than 1,500 projects. Of that total, 85%, or $3.6 billion worth, has been funneled to big business.
"Out of the gate, the big players are getting the lion's share, but that's not unusual," said Tim Dowd, chief executive of Input, a consulting firm that provides information about government contracts. "Companies have to have the infrastructure to handle a big pile of money being dropped in their lap and be able to put it to good use."
The Obama administration said 70% of stimulus money must be allocated by the end of 2010. Though the vast majority of stimulus projects (more than $300 billion worth) have yet to be funded, the bid and contract process has begun to pick up. The number of contracts awarded grew by 5% between Monday and Tuesday.
Here's a look at where some of the money is going.
Cleaning the environment. So far, the biggest contracts have gone toward hazardous waste cleanup and creating energy efficiency projects.
Engineering and construction giant Bechtel received $163 million of stimulus funds from the Department of Energy for environmental clean-up activities, including decontamination of nuclear waste at a site in Oak Ridge, Tenn.
A spokeswoman for Bechtel said the contracts were signed before the stimulus money was allocated. The timeline for the project was accelerated once the Energy Department received and allocated stimulus money for it.
Other contracts have focused on protecting rather than cleaning up the environment. For example, FedEx (FDX, Fortune 500) was one of several companies to receive funds from the DoE to implement new battery fuel cells. The shipping company received $1.3 million to replace the cells in its Springfield, Mo., fleet of electric trucks.
FedEx was unavailable for immediate comment.
Time to upgrade. Many stimulus contracts involve revamping government agencies' computers, networks and telephones.
So far, computer maker Dell (DELL, Fortune 500) received about $34,000 in contracts to upgrade servers and laptops at the Social Security Administration and Department of Energy. But the company, which took in more than $2 billion from IT contracts with the government last year, said it is looking for much more.
"We're the top provider of IT to the federal government so, we'll of course continue to see how we can work with government customers to leverage the stimulus to upgrade their IT infrastructures," said Dell spokeswoman Colleen Ryan.
She said Dell is closely tracking and hopes to participate in the bidding for a couple of long-term stimulus projects, including a DoE initiative aimed at improving data center energy consumption.
Meanwhile, AT&T (T, Fortune 500) was awarded $419,000 to upgrade circuits in several Social Security Administration offices across the country. Competitor MCI received $1 million for a similar contract with the SSA.
Chicken contracts. Money is also being used to buy chickens and eggs for local school lunch programs and food banks.
The U.S. Department of Agriculture's Agricultural Marketing Service (AMS) signed four contracts worth $1.8 million with poultry producers Tyson (TSN, Fortune 500) and Pilgrim's Pride (PGPDQ, Fortune 500). According to Hakim Fobia, a spokesman for AMS, the contracts are part of a $150 million stimulus program to restock food banks and feed the nation's hungry.
A spokesman for Pilgrim's Pride said the company frequently signs contracts with AMS, but said he was surprised to discover that three of those deals were stimulus-related.
"Typically, throughout the course of the year, we bid on a number of commodity purchases," said Pilgrim's Pride spokesman Ray Atkinson. "We submitted a standard bid process, and AMS happened to use stimulus funds for this one."
What's next. With billions still left to be allocated, many companies are lobbying federal, state and local governments to use their services for stimulus programs.
And government agencies are searching for stimulus projects that can be acted on quickly because federal funding carries an expiration date.
"Typically, projects chase money, but stimulus has created a situation where money is chasing projects, with agencies asking, 'What can we do with all this money?'" said Dowd. "Stimulus is all about the speed in which the money has to be spent, and that may favor big companies."
Large firms like IBM (IBM, Fortune 500), GE, Boeing and Cisco said they are ready and able.
"As our [Smarter Planet] campaign has been formulated and put out in the marketplace, we're seeing a lot of government customers calling us and asking us for help," said Gerry Mooney, IBM's general manager of government.
For example, Mooney said IBM has talked with local governments about the Department of Transportation's grants to ease congestion in cities. He said IBM has the technology to help implement a smart traffic project, calling it a "sweet spot that we're well-positioned for."
A spokesman for GE (GE, Fortune 500) said the company hopes to bid on $100 billion of stimulus contracts worldwide. A Cisco (CSCO, Fortune 500) spokesman said the company thinks its broadband and telemedicine technology would be well suited for many local contracts. And a Boeing (BA, Fortune 500) spokeswoman said the company "stands ready" to support a border control project.

Features

These Fortune 100 employers have at least 350 openings each. What are they looking for in a new hire? More

It would be the world's second-biggest economy. See how big companies' sales stack up against GDP over the past decade. More