'Green shoots' won't bring back jobs yet
Sales are picking up, but layoffs and poor credit conditions persist, according to a recent survey of small business owners.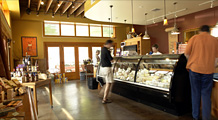 At the end of last year, five business owners struggling through the recession shared their stories of facing a make-or-break holiday season. Here's how they fared.
NEW YORK (CNNMoney.com) -- Small business owners expect to see an upswing in the economy over the next three months, according to a recent survey of National Federation of Independent Business members, but big problems remain in areas like credit availability and employment.
The NFIB's June "optimism index" report, released this week, found that nine of the index's 10 index factors were improved or unchanged from May's report, which marked a positive surge in entrepreneurs' outlook on the economy. But some key indicators remain grim: A growing number of those polled said business loans are harder to get now than they were last quarter, the worst reading for that statistic since the 1980-82 recession.
Finding credit is the biggest problem Marcos Vielma is facing. His construction company, Vielma Construction in San Jose, Calif., has all but shut down and will go under completely if he can't find a loan to tide the company over.
Vielma started the company in 2001. Unable to borrow startup capital, he grew the business organically, and in 2005 he began turning a profit. That allowed him to expand his staff to eight employees and 20 subcontractors. For several years, he thrived from a steady stream of residential and commercial projects, but then the recession hit home. Vielma Construction won its last bid in June 2008.
"Now we're at the tail end of finishing that project," Vielma says. "I laid off six guys in February because I couldn't support them on payroll. The guys that are left finishing the job will be let go once it's done."
Vielma isn't alone. The NFIB's June survey had bleak news on the jobs front: More companies plan to cut workers over the next three months than plan to hire, a reading unchanged from last month's report.
Still, the NFIB's researchers think small business owners have already weathered the worst of the recession. The optimism index "has clearly bottomed," the group said, and consumer spending is showing signs of rebounding.
"The biggest concern on the minds of owners is the weakness in spending, which has now started to turn up," said NFIB Chief Economist William Dunkelberg. "Consumers [are] less concerned with proclamations of pending disaster for the economy -- it's not going to happen."
For Vielma, that recovery may come too late. He has sunk his personal funds, including savings for his 17-year-old daughter's college tuition, into keeping his company afloat.
"I'm trying to secure loans to stay in the game," he says. "If I land a loan soon, I'll turn the corner. But if I can't, I'll be out."

To write a note to the editor about this article,
click here
.