The six-year fight to start a Boston company
Erroll Tyler has spent years battling Boston city officials for the permits he needs to launch Nautical Tours.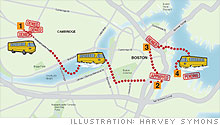 (Fortune Small Business) -- Erroll Tyler doesn't give up easily. For six years the Melrose, Mass. entrepreneur has been battling the cities of Cambridge and Boston to get his amphibious-vehicle sightseeing company, Nautical Tours, off the ground and into the water. His case is pending in federal court; here's a look at how it got there.
Step 1: Cambridge License Commission. In 2003 Tyler applied to the City of Cambridge for a jitney license. He planned to take tourists through the streets of Cambridge and into Boston, culminating with a tour of Boston Harbor. After his first application got snagged on a technicality, Tyler, 58, decided to try again. Twice. Both times he was denied. City officials said Cambridge had "no need" for another tour company and Tyler's plan offered "no benefit to the citizens of Cambridge," as his proposed route included only one stop in the city.
Step 2: Mass. Dept. of Public Utilities. Enlisting the help of the Institute for Justice -- a libertarian, nonprofit law firm in Arlington, Va. -- Tyler appealed to the state Department of Public Utilities. In June 2007 Massachusetts officials overruled the city's decision, noting that the state "is not obligated to protect the tour industry against possible competition."
But Tyler's tale was far from over. Though he planned to pick up tourists only in Cambridge, his proposed route included the streets and waterways of Boston...
Step 3: Boston Police Dept. ...so Nautical Tours would also need to obtain a sightseeing license from the Boston Police Department. The problem? Boston officials haven't issued new licenses in years.
The city has maintained a license moratorium since the Big Dig, the 10-year project that diverted Boston's central highway into a 3.5-mile tunnel under the city. But Tyler's lawyer is quick to point out that the Big Dig was completed in December 2007. So why the continued moratorium? City officials say the policy is under review.
Step 4: U.S. District Court: Tyler sued Boston in federal court in February. The city, he asserted, is violating his constitutional right "to earn an honest living." City attorneys replied that Boston is exercising its "recognized right to license in the manner [it deems] most appropriate." A Boston police spokeswoman would not comment further.
"Giving up never crossed my mind," says Tyler. "I simply want to start a business."
If Tyler wins, his case may set a legal precedent and limit other cities' rights to deny licensing requests.

To write a note to the editor about this article,
click here
.