Gas tops $3 in California...who's next?
Drivers in the Golden State pay the most for gas as the national average climbs to $2.67 a gallon, marking the 48th straight increase.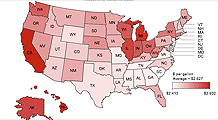 Prices at the pump can vary widely among states due to a number of factors.
More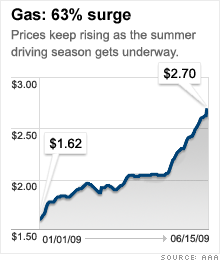 Fuel-Efficient Cars

Find Your Next Car
NEW YORK (CNNMoney.com) -- California became the first state to see gas prices top $3 a gallon since October, according to a daily survey of gas prices.
The national average price for a gallon of gas rose 0.6 cent Monday to $2.669, according to motorist group AAA. Prices have been steadily climbing higher since April 29 and are up 63% from the start of the year.
On Jan. 1, the national average for a gallon of gas stood at a mere $1.618. Still, prices remain well below the levels of last July, when the national average hit an all-time high of $4.114.
California now tops the list for having the highest gas prices, with the average price for a gallon of regular gas reaching $3.006, according to AAA. The last time gas prices topped $3 was Oct. 17, when the national average was $3.040 a gallon. On that same date, California prices averaged $3.3912 a gallon.
A cloud over the Golden State. The pain at the pump is particularly troubling for the nation's most populous state.
California has already been battered by the downturn in the housing market. And unemployment surged to 11% in April - the fifth highest of any state.
At the same time, Sacramento is now facing a $24 billion budget shortfall that could force more cuts in state services like education and health care.
Furthermore, gas prices are higher in California because the state has one of the highest gas tax rates in the nation, said AAA's Green.
And the state's stringent clean air laws require retailers to offer several different fuel blends, many of which push up the average price per gallon, he added.
Consumer budget crunch. The surge in gas prices comes at a time when household budgets are already strained by rising unemployment and a depressed housing market.
Many analysts worry that a major spike in gas prices could forestall an economic recovery as consumers cut back on spending in other areas to make up for higher prices at the pump.
Gas prices have been driven higher by a run-up in oil prices as investors bet the world's appetite for energy is poised to rebound. The price of oil, which is the main ingredient in gasoline, has more than doubled since late December.
California often sets the tone for the rest of the nation when it comes to certain economic trends. However, the old adage "as goes California, so goes the nation" may not ring true in this case.
Looking ahead, AAA spokesman Troy Green said gas prices could top $3 a gallon in "a few other states," such as Hawaii and Alaska, where prices are already nearing $3 a gallon. However he said such pricey petrol "won't be widespread."
Has the rebound in gas prices caused you financial hardship? Are you spending less on other items to help with the cost of driving? Have you postponed summer driving plans? We want to hear your experiences. E-mail your story to realstories@cnnmoney.com and you could be part of an upcoming article. For the CNNMoney.com Comment Policy, click here.

Features

These Fortune 100 employers have at least 350 openings each. What are they looking for in a new hire? More

It would be the world's second-biggest economy. See how big companies' sales stack up against GDP over the past decade. More