Is the job market really turning around?
Experts say the employment picture will start to improve soon. Workers say the proof is in the pink slip.
Millions of job openings!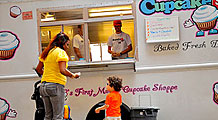 These workers are changing what they do -- or how they do it -- to get by in this economy.
NEW YORK (CNNMoney.com) -- According to some recent headlines, conditions are finally starting to improve for the unemployed.
Some indicators are showing positive signs in the job market for the first time since the credit crisis caused job losses to soar last fall. But for the growing number of unemployed workers in the U.S., macroeconomic statistics aren't worth much.
After peaking in January, the pace of job losses has slowed dramatically, according to the Labor Department. Employers cut 345,000 jobs from their payrolls in May -- 32% fewer than the previous month. And the number of Americans filing for continuing claims for unemployment insurance fell last week for the first time since early January.
But for those unemployed workers pounding the pavement, jobs are still hard to come by.
That's because even though job cuts have slowed, employers have not started hiring just yet. According to the Job Openings and Labor Turnover Survey from the Bureau of Labor Statistics, the number of new hires remains near an all-time low.
"In general, companies have been in a wait-and-see posture," explained Dr. Jane Goldner, a human resources expert and author of "Driven To Success: A 10-Point Checkup for Achieving High Performance in Business." "There's some level of confidence coming back," but in terms of hiring, "I don't think we're there yet," she said.
Many unemployed workers agree.
Ann Fry made a good living as professional speaker and executive coach in New York until last fall. Now the companies that hired her in the past have cut back and individual clients signed off.
"I completely rely on whether conferences are happening and whether they are hiring speakers," she explained. "What I notice is that companies are reluctant to pay for 'extras' like corporate training and coaching," she said. "Also, the professional associations I speak for nationally are cutting their budgets way back."
With fewer clients and fewer gigs this year, Fry, 63, has had to tap into her savings in recent months to make ends meet. As a self-employed professional, there is no safety net such as unemployment insurance to fall back on, but she's hopeful that business will pick up again.
"I think we're already seeing some signs of improvement," Fry says of the economic environment. "Do I see it turning around yet?" she asked of her own employment status, "no, not yet."
"For the job seeker it's probably not necessarily obvious right now that things are improving," said Jennifer Schramm, the manager of workplace trends and forecasting for The Society for Human Resource Management.
Although anecdotal evidence suggest that hiring expectations will improve in the second half of the year, "we have to wait a few months to see if this is a trend," she said.
Once companies stop decreasing headcount, it could still take time before hiring plans take hold, and even longer for there to be a noticeable change in workers' attitudes.
Chuck Jentlie has been through this before. His career as a recruiter for the tech industry was rocked by the dot-com bust earlier in the decade. Since then the 52-year-old went back to college at Arizona State University to get a degree in architecture.
But once a growing industry, architectural services has steadily lost jobs since the beginning of the year. Now a large percentage of architects are out of work, including recent graduate Jentlie.
"None of us can find a job," he said of his classmates.
Although the industry as a whole could bounce back quickly once the economy improves, "a lot of the reports seem like wishful thinking," Jentlie said.
"I'm definitely not seeing [employers] saying 'yeah we're looking for workers,'" he said. "Realistically I think we're probably looking at another year."

Features

These Fortune 100 employers have at least 350 openings each. What are they looking for in a new hire? More

It would be the world's second-biggest economy. See how big companies' sales stack up against GDP over the past decade. More