'Cash for clunkers' coming soon
Congress approves a measure to subsidize car purchases - consumers can get as much as $4,500 to trade in old cars. Vehicles bought after July 1 eligible.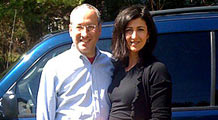 From a 1997 Mercury Cougar to a 2009 Honda Pilot, 8 readers tell us why they decided to buy a new car or keep their old wheels.
WASHINGTON (CNNMoney.com) -- A $1 billion Washington program to give vouchers to consumers who replace junky cars with fuel-efficient models is likely to ramp up very soon.
Congress passed the "cash for clunkers" measure late Thursday night as part of the $106 billion war spending bill. President Barack Obama plans to sign the bill into law.
"We are gratified that the Congress delivered on this administration priority, and President Obama looks forward to signing it into law," according to an administration statement.
Vehicles purchased after July 1 will be eligible for the refund vouchers worth as much as $4,500 to turn in gas guzzlers and buy new cars that are more fuel efficient.
The agency in charge of administering the program, the National Highway Traffic Safety Administration, will work out all the details within 30 days of enactment, according to Rae Tyson, spokesman for NHTSA.
Meanwhile, car dealers may honor rebates starting July 1. The federal agency needs the 30-day window to implement regulations to safeguard the program from fraud and abuse, Tyson said.
Among the issues regulators might address: Does the consumer hold a valid legal title to the car he is seeking to trade in? Will the clunker be appropriately disposed of so that it can't be cashed-in again?
The agency on Friday was scrambling to launch a Web site, www.cars.gov, to provide consumers with information about the program.
The bill's passage comes as welcome news to automakers, which are struggling from a dramatic plunge in sales.
"We really appreciate Congress' efforts to move this quickly across the legislative finish line," said Mike Moran, spokesman for Ford Motor Co (F, Fortune 500).
Boosting the economy: Cash for clunkers proponents in Congress said the subsidies will spur sales.
"The simple fact is that we need to get Americans into car showrooms and this is the bill that will do it," said Rep. Candice Miller, R-Mich., in a statement.
Sen. Debbie Stabenow, D-Mich., said the program will boost jobs in auto states.
Michigan's unemployment rate, the highest in the nation, hit 14.1% in May, the government reported Friday.
"This program will provide an economic stimulus at a time when hardworking families need it most," Stabenow said in a statement.
Still, cash for clunkers drew opposition from lawmakers who were opposed to spending more money on the auto industry.
The move deepens the federal government's involvement in the auto industry. The Obama administration has said it will provide General Motors (GMGMQ) with another $30 billion in addition to $19.4 billion previously provided.
How program will work: Clunkers eligible for the program must get 18 miles per gallon, or less, in combined city and highway driving.
The subsidy ends up benefiting more owners of light trucks, SUVs and mini-vans more than it would owners of regular old passenger cars, auto experts say.
A $3,500 subsidy can be used to purchase cars and vans that are more fuel efficient than the older clunkers by four miles per gallon. A $4,500 subsidy can be used toward purchasing cars and vans that are more fuel efficient than older cars by 10 miles per gallon.
However, cars that have not been insured for the past year, or those that are older than 25 years, are not eligible to be traded in for vouchers.
The supplemental bill approved Thursday sets aside $1 billion through fall. The program could make available as much as $4 billion in subsidies.
The House passed a cash for clunkers plan Tuesday by a vote of 298-119. Congress could appropriate more funds for the program in the fall.
Environmental lobbying groups had been pushing for a tougher bill sponsored by Sen. Dianne Feinstein, D-Calif., geared more toward cutting carbon emissions.
-CNNMoney.com's Jennifer Liberto and CNN's Lisa Desjardins contributed to this report.



Features

These Fortune 100 employers have at least 350 openings each. What are they looking for in a new hire? More

It would be the world's second-biggest economy. See how big companies' sales stack up against GDP over the past decade. More