Indian automakers aim to eat Detroit's lunch
Mahindra & Mahindra's small diesel-powered trucks to go on sale here by the end of this year, while Tata Motors' Nano car is slated stateside in 2011.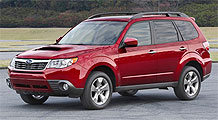 Vehicles like these will help SUV and truck owners get the biggest bang for their trade-ins.
Find your next Car

NEW YORK (CNNMoney.com) -- It wasn't too long ago that the thought of buying a reliable car from Korea seemed laughable. Today, Korean vehicles are common fare and automakers from India are getting ready to invade the U.S. market.
Experts say their vehicles are no joke. Plus, Detroit's turmoil could give Indian automakers a foot in the door here.
With General Motors and Chrysler both looking to save money, in part by trimming their dealer ranks, hundreds of new-car dealers could be ready to sign up with new competitors like these.
By the end of 2009, U.S. auto shoppers will be able to buy a mid-sized Mahindra pick-up truck and already almost 350 dealerships have signed on to sell it nationwide, according to Georgia-based Global Vehicles U.S.A., Mahindra's North American distributor. As a serious towing-and-hauling truck, Mahindra's small pick-up is aimed at taking a chunk of America's big bread-and-butter market.
In addition, Tata Motors has said it intends to begin selling its Nano microcar here by 2011 for those seeking an ultra-cheap and fuel-efficient vehicle.
Who's going to drive Indian? While it's targeted at a core part of America's vehicle market, Mahindra's truck is unusual by American standards. Global Vehicles hopes the trucks' unique features will appeal to cost-conscious but open-minded truck buyers.
The typical customer will be an "independent thinker" with an active lifestyle, said Larry Daniel, Global Vehicles' vice-president for sales.
"They don't really care what people think of what they drive," he said.
The trucks are much smaller than full-sized rigs like the Ford F-150 and Dodge Ram. They are closest in size to mid-size trucks like the Dodge Dakota but their cargo beds are about as big as the big trucks'. With high ground clearance, a tall cab and large bed, the trucks look oddly proportioned compared to competitors.
Most importantly, the Mahindra trucks are diesel-powered. Diesel engines produce more pulling power than gasoline engines while getting better fuel mileage. Mahindra boasts that its truck, with its 4-cylider diesel engine and 6-speed transmission, will get 30 miles per gallon on the highway and will also be able to haul more than competitors' V6-powered trucks.
The relatively high cost of diesel engines, combined with the additional technology required to make dirty diesel emissions conform to air quality rules in all 50 states, has so far kept major manufacturers from offering diesel in smaller trucks, Levine said.
Currently, diesel engines are used only in the biggest pickups sold in America, ones intended for strictly commercial use.
Buyers of smaller trucks would probably snap up diesel-powered ones, some analysts say, because truckers understand diesel.
"They realize what both the power fuel economy benefits of diesel are," said Mike Levine, an editor for the Web site Pickuptrucks.com.
Mahindra insists it can sell its truck here in the low $20,000 range. That's in spite of a 25% tariff on imported pick-ups that has even foreign companies like Toyota and Nissan building their trucks here. Mahindra might open its own factory here, too, in order to beat the tariff, but only if sales take off.
India's key to success. Mahindra's truck sales may benefit from the fact that, in rural markets, the name is already well known, said Levine. Mahindra is already one of the biggest-selling tractor manufacturers in the American market and even sponsors a Nascar team.
The first couple of years will be critical to Mahindra's success, said Levine. If other truck manufacturers decide to offer diesel engines in their better-known small truck models, that could undercut Mahindra's main selling point, especially if they can do it at a similarly low price.
Beyond that, Mahindra just has to keep an eye on quality.
"The two questions will be final pricing and the trucks' reliability and dependability," Levine said.
If the Mahindra trucks aren't rock solid, they will be quickly shrugged off, he said.
Mahindra trucks probably won't sweep the market right off, said Jeff Schuster, an analyst with J.D. Power and Associates. With so much on the line, the trucks will probably get a slow-rolling, toe-in-the-water introduction he said.
"I think it's likely to be in limited quantities and with limited fanfare, at least initially," he said.
Global Vehicles, for its part, insists that there will be a strong retail market for these trucks, but Levine and Schuster both argue that commercial fleet buyers, focused on functionality and cost over style, will be the more likely buyers for these vehicles.
Despite changes to improve the trucks' interior amenities and exterior design for the competitive U.S. market, the Mahindra truck will still be more of a rough-and-tumble work truck than the nearly car-like conveyance American buyers are used to, said Levine. Global Vehicles really ought to concentrate on commercial buyers, he suggested.
"I think fleet is an optimal way for them to get in and have them win," he said.
Schuster agrees that ordinary, non-business truck buyers will be slow to warm up to a new entry.
"The small commercial use person or contractor or someone that just needs a truck for hauling," is how Schuster describes a likely customer, not the fun-loving, motorcycle-carrying young man Global Vehicles' Daniel said the importer envisions.
Still, by entering the market with a diesel-powered mid-sized truck, a product that strikes at a weak spot in the market, Mahindra is smartly treading the path of least resistance, said J.D. Power's Schuster. Americans like trucks and they're becoming more interested in fuel economy.
When Tata Motors enters the market later it will be trying to sway buyers toward a much smaller car than Americans are used to at a price that will compete against larger used compact cars from well-known brands.
"The risk associated with the Nano is much greater than Mahindra's risk with the truck," he said.

Features

These Fortune 100 employers have at least 350 openings each. What are they looking for in a new hire? More

It would be the world's second-biggest economy. See how big companies' sales stack up against GDP over the past decade. More