'Cash for Clunkers' mostly a clunker
Most car shoppers will not benefit from the vehicle trade-in law.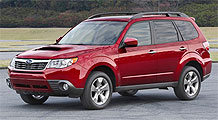 Vehicles like these will help SUV and truck owners get the biggest bang for their trade-ins.
Find your next Car

NEW YORK (CNNMoney.com) -- If you think the new "Cash for Clunkers" law is going to help you buy a new car, you're probably wrong.
As it's written, the law will benefit few car shoppers and those who might actually benefit from it probably shouldn't be buying a new car to begin with.
Here's why it won't do most people much good: The government refund vouchers for $3,500 or $4,500 are in replacement of -- not in addition to -- the ordinary trade-in value of the vehicle, which in many instances will be worth more than the voucher.
"It's not a rebate," pointed out Jeremy Anwyl, chief executive of the auto Web site Edmunds.com. "It's a minimum trade-in allowance."
If your trade-in is worth more than the voucher amount, you'd be better off just trading your car in as you ordinarily would and not even bothering with the "Cash for Clunkers" program. Even if your vehicle is worth a little less than that amount -- say, $3,000 instead of $3,500 -- you will be $500 better off under "Cash for Clunkers." But it you weren't ready to buy a car before, is $500 going to make the difference?
All of this raises a bigger question, too. If you're currently driving an old fuel hog that's worth less than $4,500, there's probably a reason.
"Most likely, you have the old car because you're either frugal by choice or because of your situation," said Jeff Bartlett who writes about auto buying for Consumer Reports.
All of that means you probably shouldn't be looking at new cars.
For someone who's been driving an old, inefficient car on which they've made no payments in years, if ever, buying a new car would be a huge budget adjustment.
"How in the world are they going to step up and buy a new car with payments of $300 or $400 a month?" Anwyl said.
Why not simply sell or trade your car or truck for whatever it's worth and buy a more efficient used vehicle that's in good shape? That would save thousands over the cost of buying a new car, not the few hundred that a "Cash for Clunkers" voucher would save. Unfortunately, "Cash for Clunkers" vouchers cannot be claimed for used car purchases.
Besides all that, many of the cars and trucks people will want to trade in simply won't have fuel economy bad enough to qualify for the benefit.
If you're still thinking "Cash for Clunkers" might help you, here are some tips to make sure you don't get taken advantage of when you go shopping.
Know your mileage: To qualify under the program, your car or SUV must get 18 miles per gallon or less in combined city and highway driving as measured using today's EPA standards.
To find out if your car qualifies, go to the EPA's fueleconomy.gov Web site and look up your vehicle. If you have a car, as opposed to an SUV or truck, you'll probably find that it doesn't qualify. For the most part, only the biggest cars with the biggest engines get mileage that bad.
Know the value: Go to a Web site like AOL Autos, Edmunds.com or Kelley Blue Book's KBB.com and check the trade-in value of your vehicle. Also check how much it would be worth if you sold it yourself, which will be much more.
If your vehicle is worth more than $4,500, forget about Cash for Clunkers. If it's worth less than that, but more than $3,500, "Cash for Clunkers" is only worth it if you're buying a vehicle that will get you a big fuel economy jump that will net that $4,500 voucher.
If your vehicle is worth a lot less than $3,500, "Cash for Clunkers" may make sense. Still, you should seriously consider buying a good used vehicle first.
Know the rules: The original idea behind "Cash for Clunkers" was to help the environment, not just car sales. The law is supposed to get old polluting vehicles off the road.
To make sure that happens, the rules require car buyers to trade in cars that are actually being driven, not ones that have been up on blocks for years. Some legislators were afraid that scammers would simply pick up junked cars to trade in.
To avoid this, the car must be in drivable condition, have been insured for at least a year -- an indication that you've actually been driving it -- and it can't be more than 25 years old.
There are other rules, too. Check the National Highway Traffic Administration's CARS.gov Web site for more information.
Know the other savings: "Cash for Clunkers" is a replacement for trading in or selling your car. It's not a replacement for manufacturer rebates or dealer discounts. "Cash for Clunkers" or not, you can still get those. Be sure to understand all the rebates and incentives and negotiate the purchase price just as you always would. Don't think you're getting a deal just because you're getting government help.
"Whenever there's a big discount, people put the blinders on," Bartlett said.

Features

These Fortune 100 employers have at least 350 openings each. What are they looking for in a new hire? More

It would be the world's second-biggest economy. See how big companies' sales stack up against GDP over the past decade. More