Bernard Madoff victims: No satisfaction
Those who lost all to Ponzi schemer Bernard Madoff say 150 years isn't enough - they want their money back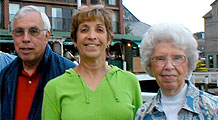 Some people invested everything they had with Bernard Madoff. Now, they have nothing. Here are their stories.
NEW YORK (CNN) -- A burst of applause erupted in the ornate 9th floor ceremonial courtroom of Manhattan's U.S. District Court as Judge Denny Chin proclaimed, "Bernard L. Madoff shall be and hereby is sentenced to a term of imprisonment of 150 years."
Victims, who have had little reason to cheer since learning in December their investments were lost in history's biggest Ponzi Scheme, hugged as soon as Judge Chin said, "We are adjourned" and Madoff was led out of court back to a jail cell where he would change out of his dark suit into prison garb, likely for the final time.
Victims interviewed for CNNMoney were unanimous in their approval.
"I feel that was the right sentence. If he had just gotten 12 years like his lawyers recommended I would have been so crushed," said Sharon Lissauer, a model who told the court she had lost virtually all her savings to Madoff.
"The judge was wonderful, and he really told it like it was, and he was making a statement to the world that was very important," said Madoff victim Judith Weller.
But, satisfied? Not a single victim was.
"I don't have satisfaction because the victims have no reparations yet," said Madoff victim Norma Human.
The Securities Investor Protection Corporation, which provided insurance against fraud to clients of Bernard L. Madoff Investment Securities, has thus far approved just 371 claims totaling $161-million. Trustee Irving Picard has listed more than 13,000 victims with losses estimated at more than $13 billion.
"I don't think you ever get satisfaction out of something like this," agreed Norma Hill, a victim who met with Bernard Madoff two decades ago, two weeks after her husband had died.
"He put his arm around my shoulder and he said to me, 'Don't' worry. Everything will be fine, and your investment will be safe with me,'" recalled Hill. "So I had no reason not to believe him. He was kind, he was very nice, and I was utterly taken by how nice he was."
Judge Chin said he was "particularly struck" by a letter from Ms. Hill in announcing his sentence.
"If my letter helped influence Judge Chin in the sentencing then I feel very pleased about that," said Ms. Hill.
Madoff told the court "I live in a tormented state now knowing of all the pain and suffering that I have created. I have left a legacy of shame." Then, in conclusion, Madoff briefly turned to face the audience which included dozens of victims. "I apologize to my victims," he said. "I am sorry. I know it will not help you."
The apology was hollow to those who had once trusted Madoff with their funds.
"It's a joke," said victim DeWitt Baker. "He doesn't exhibit any emotion There's no tears, there's no broken voice, it's just the recitation, inhuman recitation."
Dominic Ambrosino knows better than any of his fellow Madoff victims what awaits the former Nasdaq Chairman in prison. The former corrections officer told CNNMoney minutes after Madoff's sentencing, "When that cell door closes on you for the first time that's a feeling you'll never forget the rest of your life."

Features

These Fortune 100 employers have at least 350 openings each. What are they looking for in a new hire? More

It would be the world's second-biggest economy. See how big companies' sales stack up against GDP over the past decade. More