California on brink of fresh budget talks
The state has been doling out IOUs ever since negotiations over the $26.3 billion budget gap stalled between the legislature and Gov. Arnold Schwarzenegger.
Map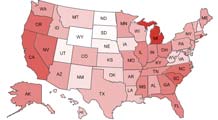 SAN FRANCISCO (Reuters) -- California Assembly Speaker Karen Bass said Wednesday she sees stalled negotiations with Gov. Arnold Schwarzenegger over closing the state's $26.3 billion budget gap resuming by Friday.
California has been burning through its cash without a budget agreement and is issuing IOUs for tax refunds.
The legislature is being urged to consider taxing marijuana to help raise revenues.
Bass, a Democrat, and Schwarzenegger, a Republican, have been at odds in recent days over his demands for overhauling some state operations with new rules, including some to root out and prevent fraud in the state's welfare system, as part of a broader agreement for balancing the state's budget.
"The problems are with the reforms, and I hate to call them reforms because they are really just policy concerns the governor has had for the past few years, that they are just too massive," Bass told Reuters in a telephone interview.
But Bass said she is hopeful budget talks would resume by Friday. "There's some wiggle room," she said. "I do see us back at the negotiation table in the next day or two."
State Senate Republican Leader Dennis Hollingsworth said lawmakers from both parties would welcome budget talks resuming as soon as possible. "There's not a lot of movement," Hollingsworth said of the day's business in the state capital of Sacramento.
Burning through cash. Without a budget agreement, California is going through its cash while suffering its worst slump in personal income tax revenues since the Great Depression because of the recession, rising unemployment and the housing downturn.
The state's cash crunch has grown so severe the state controller is issuing "IOUs" promising payment for tax refunds and vendors in order to have money available to pay priority bills such as payments to debt holders.
One option open to the government of the most populous U.S. state for raising revenue is to tax marijuana, said retiree Nadene Herndon, a 58-year-old retire in Fair Oaks, California. Herdon promotes a tax on pot in a television commercial, paid for by the Marijuana Policy Project Foundation, that began airing on Wednesday in some California broadcast markets.
"I'm a medical marijuana user, but I bake with it. I had several strokes several years ago and have left-sided weakness when I get fatigued ... It helps late at night when I can't get to sleep," she told Reuters by telephone.
Pointing to cigarette smokers, who light up regardless of California's stiff tax on tobacco, Herndon said marijuana could prove a steady source of revenue for the state. "It should be taxed like any other commodity," she said.

Features

These Fortune 100 employers have at least 350 openings each. What are they looking for in a new hire? More

It would be the world's second-biggest economy. See how big companies' sales stack up against GDP over the past decade. More