Google Chrome: Microsoft killer?
Experts say Google's new operating system is designed to weaken Microsoft, but the OS battle may have just begun.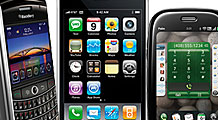 Tech competition is heating up: Google vs. Microsoft! Microsoft vs. Apple! Apple vs. Palm! Here's how the second half of '09 is shaping up.
NEW YORK (CNNMoney.com) -- For years, Microsoft has been trying to devise a "Google killer" (Can you say Live? Bing?). On Wednesday, the search engine giant lashed back with its own Chrome operating system. Could it be a "Microsoft killer?"
"Just like Henry Ford drove down car prices and ripped the heart out of the automobile industry, Google is trying to force Microsoft to cut its prices and eat the heart out of Microsoft's revenues," said Tom Austin, Google analyst with Gartner.
The battleground Google (GOOG, Fortune 500) has chosen: tiny, cheap laptop-like computers known as netbooks, which are quickly gobbling up market share. Netbooks made up nearly 20% of all notebook sales in the first quarter of 2009, according to DisplaySearch data. Currently, Microsoft (MSFT, Fortune 500) dominates the netbook operating system market, with a 90% share, according to Gartner.
Netbooks are getting faster, but they're still not so great for software -- Microsoft's main domain. But they can easily handle the Web just about as well as your average desktop. And as Web-based applications overtake software bit-by-bit, many believe netbooks will dominate consumer and small business PC sales in years to come.
Google is certainly taking that bet. Its plan: offer a scaled-back, inexpensive operating system that is designed around the Internet rather than software.
The right stuff. Some analysts say Google's strategy makes perfect sense.
"It's not personal, it's just about getting everybody using the Internet for everything, which means more revenue for Google," said Austin. "It's all part of Google's grand commoditization plan."
In other words, if it seems like Google is trying to take over your PC, it is. If Google successfully creates an operating system that seamlessly integrates its Chrome Internet browser, Google Apps and Google search, that means cash in the bank for Google -- and lost business for Microsoft.
So far, users have been willing to pay more for Windows-based machines over Linux-based netbooks, but Austin said the Google name will help the company penetrate the netbook market.
"Previous Linux versions offered on netbooks failed dramatically, but Microsoft can't assume this one will fail as well," he said.
Furthermore, many analysts doubt Microsoft's ability to run its soon-to-be-released Windows 7 OS on netbooks. Netbooks mostly run Microsoft's Windows XP, because its current operating system, Vista, is too big. Though Windows 7 is slightly leaner, it isn't dramatically smaller than Vista.
"Microsoft's decision to run Windows 7 on netbooks is curious," said Zeus Kerravala, analyst at Yankee Group. "It's hard to take the stuff out of a big OS, but much easier to add to one that's lighter."
Still, Kerravala and other analysts are skeptical that Google will be able to drive revenue from Chrome OS.
"Google has really been unable to monetize anything other than its search engine," said Kerravala. "Google gets a lot of accolades -- and deservingly so -- but as far as monetization is concerned, it's still a one-trick pony."
Microsoft's tight grip. Even experts who believe the plan will ultimately succeed say it will be a long time before Google can really convince customers that online software, or "cloud computing" is the answer.
"The revolution is happening ... but it's going to take another 15 to 20 years," said Austin. "Google is today with cloud where Microsoft was with the PC in 1990: Businesses didn't start to embrace PCs en masse until Windows 95."
We may, one day, look back on the days that we used OS-based software like we look back now on the days we spent hours manually entering data into mainframes. But for the time being, most computer users are still hesitant to give up Microsoft Word and Outlook for Google Docs, Google Calendar and Gmail.
"Users may go for a Google netbook, but it depends on what they expect when they get it home," said Mike Silver, Gartner's vice president. "If they want to use their existing software, they may not be so thrilled."
As a result, analysts believe netbooks will likely remain a niche product for at least 3 to 5 years. Meanwhile, some think Google won't make much of a dent in Microsoft's dominance.
"The Chrome OS isn't the final bullet in the war between Google and Microsoft, rather it's merely a shot across the bow," said Joshua Martin, senior analyst at Yankee Group. "Google's targeting of netbooks will reduce Windows' market share of this high-growth category, but the effect will only be slightly greater than the introduction of Linux-based netbooks."
But that may not be the point. Similar to how Google head-faked on its bid for the rights to analog TV signals last year, driving up Verizon's (VZ, Fortune 500) bid, some think that a point taken away from Microsoft is a point for Google.
"I don't see this as a major revenue enhancement strategy as much as it's an attempt to drain money out of Microsoft," said Austin. "Google just wants to force Microsoft to cut the cost of its netbook OS by 60% to 70%."

Features

These Fortune 100 employers have at least 350 openings each. What are they looking for in a new hire? More

It would be the world's second-biggest economy. See how big companies' sales stack up against GDP over the past decade. More