Fewer than expected file for unemployment
Labor Department says first time jobless claims fell by 52,000 last week to 565,000. But continuing claims rose to another record high.
Photos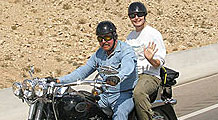 NEW YORK (CNNMoney.com) -- The number of Americans filing initial unemployment claims fell sharply last week, while those filing ongoing claims rose to another all-time high, according to government data released Thursday.
There were 565,000 initial jobless claims filed in the week ended July 4, down 52,000 from a revised 617,000 the previous week, the Labor Department said.
It was the lowest number since January and was below the consensus estimate of 603,000 from economists surveyed by Briefing.com.
Analysts said last week's drop was distorted by a change in the pattern of seasonal layoffs in the automotive industry.
Initial claims typically spike in July as automakers idle certain manufacturing plants, and the Labor Department adjusts its data for such seasonal factors.
However, many plant closures occurred early this year, said Mark Vitner, an economist at Wacovia Economics Group.
On a non-seasonally adjusted basis, initial claims were 577,506.
"The improvement in first week of July was exaggerated by the timing of plant closures," Vitner said. "This is something we're going to be dealing with throughout the month."
Meanwhile, the number of people requesting continued jobless benefits rose to a record high, indicating that the labor market remains weak.
The government said continuing claims rose to 6,883,000 in the week ended June 27, the most recent data available.
That's an increase of 159,000 from the previous week's revised total of 6,724,000 and was the highest reading since the Labor Department began keeping records in 1967.
The 4-week moving average of continuing claims rose 12,000 to 6,769,000.
The ongoing rise in continuing claims suggests that more workers are struggling to re-enter the work force.
"While layoffs have topped out, hiring has not picked up," Vitner said. "The increase in unemployment rate going forward will be more a result of lack of hiring rather than layoffs," he said.
Been to the mall lately? What has changed that you like or dislike? We want to hear about your experiences. E-mail your story to realstories@cnnmoney.com and you could be part of an upcoming article. For the CNNMoney.com Comment Policy, click here.

Features

These Fortune 100 employers have at least 350 openings each. What are they looking for in a new hire? More

It would be the world's second-biggest economy. See how big companies' sales stack up against GDP over the past decade. More