GM's eBay play
Dealers would be able to list inventories on auction site through a California pilot project.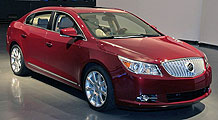 GM is launching a slate of new products. Can they give a lift to the auto giant as it enters a new era?
Find your next Car

NEW YORK (CNNMoney.com) -- Fresh out of bankruptcy, the new General Motors hopes to soon start selling its whole line of cars on eBay through a pilot program.
While the marketing effort would initially be limited to California, it could go national if it proves to be successful, said GM Chief Executive Fritz Henderson at a news conference Friday.
A tie-up with eBay wouldn't be entirely new for GM. The automaker has been placing all of its "GM Certified" used cars on eBay for over a year. Toyota and Chrysler have similar programs for their certified used cars, as well.
However, there is no definitive agreement in place and discussions are still ongoing, said both GM and eBay.
"At this time, no plans have been finalized with General Motors," said Rob Chesney, vice president for eBay Motors in a prepared statement. "We hope to support GM's new company and vision going forward."
Automakers are prevented by state laws from selling cars, new or used, directly to consumers. Only licensed auto dealers can do that. Under GM's plan, California GM dealers could put their new vehicle inventories on the auction site and eBay users would bid on them. Each vehicle would also have a "Buy it now" price for shoppers who don't want to risk losing out in a bidding process.
Winning bidders, or "Buy it now" buyers, would complete the purchase at the dealership, said Susan Docherty, general manager for GM's Buick, Pontiac and GMC brands.
She said GM decided to try selling cars on eBay because 80% to 90% of GM shoppers already spend a lot of time researching their purchase online.
Shoppers can check vehicle inventories online now by looking at dealers' own individual Web sites, but the eBay pilot project would allow users to search multiple dealerships at once and more easily compare products, features and prices.
"The power of the eBay brand mated up with the four core brands from GM could be a really good thing," Docherty said. "It takes the shopping process online up about 4 notches because you've got a lot more information at your fingertips."
Shoppers will also be able to complete the negotiation process online once they've found the vehicle they want.
Docherty has been working on the plan along with her counterparts from GM's Chevrolet and Cadillac brands. The carmaker expects to have more details of the pilot project worked out within the next week or so, she said.
A lot of that work will take place in meetings with dealers, she said. Among the things dealers will have to work out will be how to respond to those who could be shopping for cars and even buying them in the middle of the night.
"What we've got to talk to them about is if someone goes in there at two o'clock in the morning," Docherty said, "They're going to need to respond to that consumer in ways they haven't had to in the past."
Whether GM's eBay listings prove to be beneficial will depend on how much freedom GM gives dealers to set their own "Buy it Now" prices, said Scott Painter, chief executive of the auto pricing Web site TrueCar.com.
"The proof in the pudding for GM will be if the "Buy it now" price is set above the market price," he said.
The market price is what most people are actually paying for the car in the real world. If dealers are genuinely competing for buyers on eBay, "Buy it Now" prices should reflect that, he said.
If the eBay program ultimately really works, shoppers will begin using eBay as a research tool -- to see what people are paying for cars -- even if they don't intend to buy through eBay, he said. That information alone will be valuable for consumers, said Painter.
Have you gone to a state or local government office only to find locked doors due to worker furloughs? Are you a public employee forced to take unpaid time off? How have furloughs affected you? We want to hear your experiences. E-mail your story to realstories@cnnmoney.com and you could be part of an upcoming article. For the CNNMoney.com Comment Policy, click here.

Features

These Fortune 100 employers have at least 350 openings each. What are they looking for in a new hire? More

It would be the world's second-biggest economy. See how big companies' sales stack up against GDP over the past decade. More