Average gas price now below $2.50
After falling for 25 days in a row, AAA's national average drops to its lowest level since May.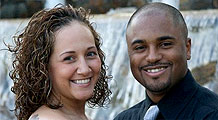 The recent spike in gasoline prices comes at a particularly unfortunate time -- many Americans are still reeling from the economic downturn. Here is how some people have responded to the return of pain at the pump.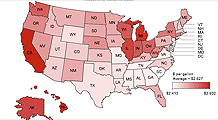 Prices at the pump can vary widely among states due to a number of factors.
More
NEW YORK (CNNMoney.com) -- In a much needed break for cash-strapped drivers, the national average price for a gallon of gas fell below $2.50 for the first time since May, motorist group AAA said Thursday.
The national average for regular gasoline slid 1.2 cents overnight to $2.492 a gallon, according to AAA's daily survey of up to 100,000 filling stations. Prices have not been this low since May 30, when the national average stood at $2.484 a gallon.
Gas prices have fallen more than 20 cents since June 21, when the national average hit $2.693 a gallon -- its highest level of the year.
Despite the decline in the national average, gas prices remain above $3 a gallon in Alaska and Hawaii. Gas was cheapest in Missouri, where a gallon averages $2.245.
"There's chance we could see the price of gas continue to fall," said AAA spokesman Troy Green. He added that because current wholesale prices, which give an indication of the retail price trajectory, continue to slide, gas will keep falling "for the next few weeks."
But he expects another bump in early August, based on on historical patterns.
Gas prices spiked in June as the price of crude oil, which is the main ingredient in gasoline, rose above $72 a barrel. At the same time, gas prices typically rise in the spring as producers switch to more expensive summer blends.
The recent decline in gas prices comes as oil prices have been weighed down by economic concerns. Crude futures were trading lower Thursday after climbing to $61.54 a barrel the day before. Oil has tumbled nearly $8 a barrel since July 1.
"The economy is telling us that the demand for oil and oil products is down," Green said. "It remains to be seen if we'll get that second bump."
While gas prices remained well below the highs of last summer, the recent rebound took a toll on households already struggling with unemployment and housing woes.
Last summer, gas prices soared to an all-time average high of $4.114 a gallon on the back of oil prices near $150 a barrel. Prices abruptly dropped in the second half of last year, with the national average gas price plunging to a low of $1.656 in December.

Features

These Fortune 100 employers have at least 350 openings each. What are they looking for in a new hire? More

It would be the world's second-biggest economy. See how big companies' sales stack up against GDP over the past decade. More