U.S. to mortgage firms: Pick up the pace
Pummeled by complaints from borrowers, loan servicers commit to more mortgage modifications. White House wants 500,000 trial mods by Nov. 1.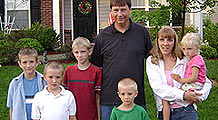 Homeowners in trouble are having mixed results applying for President Obama's foreclosure prevention plan. CNNMoney.com readers tell us their tribulations and triumphs trying to get their loans modified or refinanced.
NEW YORK (CNNMoney.com) -- Loan servicers will "significantly" increase the pace of mortgage modifications under the Obama foreclosure prevention program, the Treasury Department said Tuesday.
The Obama administration wants to see 500,000 trial modifications in place by Nov. 1. Currently, 200,000 are underway.
Officials called executives from 25 servicers participating in the program to Washington Tuesday to discuss improving the 5-month-old plan's implementation.
Both the Obama administration and the industry are feeling mounting pressure from borrowers who say their servicers are not responding to their calls and applications, losing their paperwork or not making decisions.
"[T]oo many homeowners are at risk of foreclosure right now," Treasury Secretary Tim Geithner said in a statement Tuesday. "Today's meeting was an opportunity to identify ways to accelerate the program and bring relief faster."
Announced in February, the loan modification plan allows eligible borrowers who are in or at risk of default to lower their monthly payments to no more than 31% of their pre-tax income through a loan modification. The adjustments are made permanent after the homeowner makes three on-time payments. Homeowners, servicers and mortgage investors receive incentive payments in hopes of increasing participation.
So far, the government has committed $20 billion to the effort and has said it would provide $75 billion overall.
Most servicers started implementing the program in April and May, but soon faced harsh criticism as applications flooded in. CNNMoney.com has heard overwhelming negative reviews from the nearly 500 people who wrote in about their experiences.
"Obama's plan is a joke," wrote Jean in Michigan. "The banks are a joke. fax, fax, fax, call, call, call and no response for months. Even washington rep can't get an answer or help, what a sham!!!!"
Also, the number of people falling behind on their payments continues to mount, especially as unemployment rises. Some 1.5 million people fell into foreclosure in the first half of 2009, up 15% from a year ago.
Even President Obama acknowledges that the program is failing to stem the foreclosure tidal wave.
"Our mortgage program has actually helped to modify mortgages for a lot of our people, but it hasn't been keeping pace with all the foreclosures that are taking place," Obama said last month.
The administration has said the plan could help up to 4 million people avoid foreclosure. Though officials said they are on track to reach their goal, the Government Accountability Office cast doubts in a report last week on whether this number could be achieved.
To help servicers speed up the modification process, the administration said it will work with the institutions to set more exacting performance measures, such as average borrower wait time, document handling and response time for completed applications. Officials will release their first progress report on each servicer -- detailing the number of trail modification offers were extended and are underway -- by Aug. 4.
Servicers, including Citigroup (C, Fortune 500), JPMorgan Chase (JPM, Fortune 500), Bank of America (BAC, Fortune 500), Ocwen (OCN) and Wells Fargo (WFC, Fortune 500), were spending all of Tuesday meeting with Treasury and Housing department officials in the morning and early afternoon, and then with housing counselors in the latter part of the day.
In the morning session, servicers said they would like to see a standardization of documents and definitions, which will speed their application review and reporting process. Also, they asked the administration to create a Web site where borrowers could apply for a modification and submit their documentation electronically, rather than fax them in. And financial institutions said they are looking into why only 50% of the troubled borrowers they contact respond.
"Things can be done all through the process to make it work a little better," said Paul Leonard, vice president for government affairs at the Housing Policy Council, which represents financial institutions.
Servicers believe the administration's goal is attainable, he said.
To reach it, however, servicers will have to hire and train more staff. Like its peers, Citigroup said it is ramping up its efforts.
"We have increased loss mitigation staff, added call center capabilities, expanded training and taken other important steps to fully implement the program in its current stage of development," said Sanjiv Das, chief executive of CitiMortgage. "Today's meeting was an important step toward the administration's and our shared objective of improving the effectiveness and efficiency of the Make Home Affordable mortgage modification program."
How has President Obama's $787 billion stimulus program affected you or your community? Are you seeing a benefit from the Making Work Pay tax cuts or the additional $25 in unemployment benefits? Are you seeing construction jobs or other stimulus-funded work in your neighborhood? Do you still have a job because of stimulus funds? We want to hear your experiences. E-mail your story to realstories@cnnmoney.com or send in an iReport and you could be part of an upcoming article. For the CNNMoney.com Comment Policy, click here.

Features

These Fortune 100 employers have at least 350 openings each. What are they looking for in a new hire? More

It would be the world's second-biggest economy. See how big companies' sales stack up against GDP over the past decade. More