Invest $500,000, score a U.S. visa
To find financing in a frozen economy, some entrepreneurs are turning to a little-known program for foreign investors.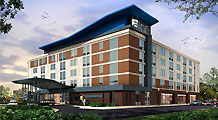 The little-known EB-5 visa program offers international investors a deal: Put up $500,000 for a project that creates 10 jobs and get a green card in return. Here's a look 5 projects funded through the program.
(Fortune Small Business) -- Hunting for capital in this frozen economy? Some legislators think an obscure immigration program could help.
A bipartisan group of senators is pushing to save the EB-5 visa program, scheduled to expire at the end of September. The program grants temporary visas to foreigners who invest at least $500,000 in distressed areas. If an investment creates at least 10 jobs for American workers, the temporary visa can become a permanent green card. Last year, 945 EB-5 immigrants invested more than $400 million in U.S. ventures.
Critics say it's unfair that foreign investors can buy their way to the front of the immigration line. But local officials believe the program is a great way to infuse struggling areas with capital.
"It puts us on the map," says Tim Sheehy, president of the Metropolitan Milwaukee Association of Commerce. "EB-5 gives foreign investors the opportunity to consider a market that they probably wouldn't look at otherwise."
Distressed areas that win "regional center" status from the U.S. government can market local ventures to overseas investors who become equity partners. Today there are 46 regional centers scattered across the country, offering investments in everything from Napa Valley vineyards to ethanol plants.

Click through for a gallery of 5 projects financed by EB-5 investors.

To write a note to the editor about this article,
click here
.